Sickness, pain, and suffering are inevitable parts of life. At some point in everyone's life, they will be affected by something that doesn't feel right. The weather may be cold, or humidity might trigger severe allergies.
Being sick is a part of life and can disrupt a person's routine and other relationships. However, you don't have to suffer alone when you're sick.
Encouraging Bible Verses for the Sick
There are 31 encouraging Bible Verse for the sick we can learn to remind us that despite our circumstances, God is always with us and will help us overcome any hardships we encounter.
2 Corinthians 12:9-10 – His mercy is enough for us.
"But he said to me, "My grace is sufficient for you, for my power is made perfect in weakness." Therefore I will boast all the more gladly of my weaknesses, so that the power of Christ may rest upon me. For the sake of Christ, then, I am content with weaknesses, insults, hardships, persecutions, and calamities. For when I am weak, then I am strong."

2 Corinthians 12:9-10
We enjoy downplaying our flaws and emphasizing our virtues. We put stress on our ability to function on our strength. However, according to God, "my mercy is enough for you," and "my power is made perfect in weakness."
In this verse, we are urged to remind ourselves that God's grace is sufficient for us because, in him, we are strengthened. There may be times in our lives when sickness and illnesses cause us to question God's love for us, but we should look in the Bible for words of encouragement from God.
Solomon 16:12 – You are healed.
"It wasn't any herb or ointment that healed them but your word alone, Lord, which heals everything."

Solomon 16:12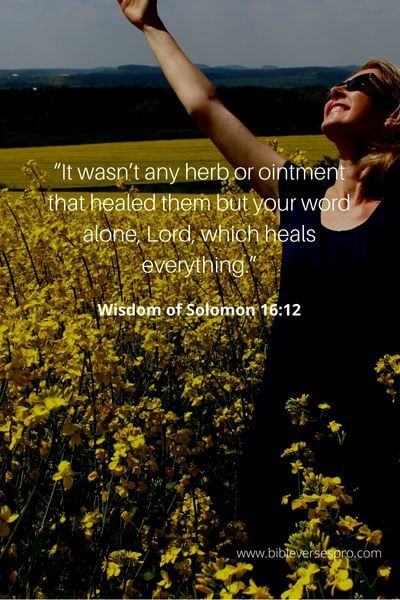 When we are sick, the first thing most people do is run to the doctor. It's good to always run to the doctor, but how about God's words? Have you considered the healing words of God? Do you not believe that God can heal you?
All Jesus had to do to heal the sick was speak the words "you are healed." Whatever the doctor must have said to you about your sickness, God is telling you right this moment that His words can heal you.
His words can heal you through your medication and injections, but all you have to do is have faith and believe in his words without a doubt.
Deuteronomy 7:15 – God has power over sickness.
"And the Lord will take away from you all sickness, and none of the evil diseases of Egypt, which you knew, will he inflict on you, but he will lay them on all who hate you."

Deuteronomy 7:15 
Obeying the covenant is a source of blessing, prosperity, joy, and health for God's people. The power of God is evident here. God has power over sickness. You are aware from the chapter's opening verses that following God's word and leading a pure life has benefits.
Prayer
Thank you, Father, for ensuring a life free from illness. I am aware that I must obey you; if you would, please help me to be an obedient child. Please assist me in daily assuming the righteousness of your son, Jesus Christ. In the mighty name of Jesus, I pray that all illness and disease leave my life right now. Amen.
James 5:14 – A sick person must have the humility of spirit and confidence in God.
Was this article helpful?