Have you ever wondered if there was a Bible verse about finding your soulmate? Or, perhaps you have been looking for the right words of inspiration to help you find love and move on from heartbreak. If so, I've got just the correct list for you.
Bible verses about finding your soulmate.
Finding your soulmate may be one of the most important things you will ever do. When people find love in all the wrong places, they can feel a sense of loss and despair. You are not alone because the Lord has given us many scriptures to help us find our soulmates.
Genesis 1:27-28 – Love yourself.
So God created man in his own image, in the image of God he created him; male and female he created them. And God blessed them. And God said to them, "Be fruitful and multiply and fill the earth and subdue it, and have dominion over the fish of the sea and over the birds of the heavens and over every living thing that moves on the earth."

~ Genesis 1:27-28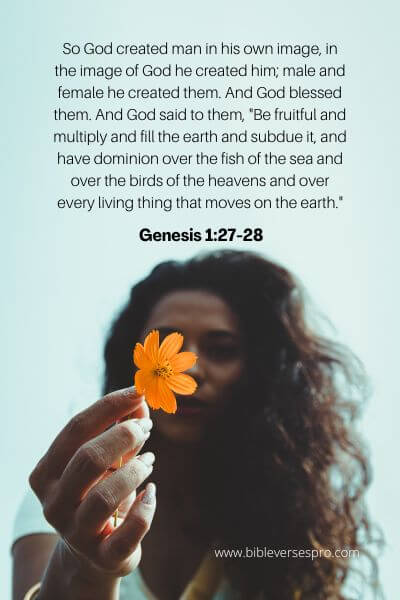 You have to be yourself to discover your soulmate. The Bible talks about taking charge and dominating, After all. A soul mate is someone who is meant to adore you for who you are.
Be you without reservation; own your identity. Empower yourself to change the aspect of yourself that you're not proud of. Your soul partner will adore you if you love yourself.
Genesis 2:18–22 – Values and Qualities.
Then the Lord God said, "It is not good that the man should be alone; I will make him a helper fit for him."…So the Lord God caused a deep sleep to fall upon the man, and while he slept took one of his ribs and closed up its place with flesh; and the rib that the LORD God had taken from the man he made into a woman and brought her to the man.

~ Genesis 2:18–22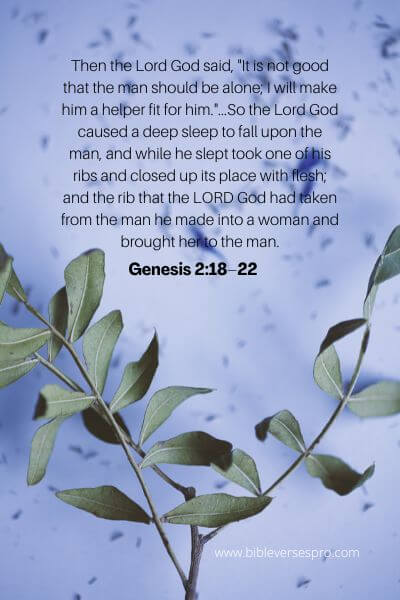 You're more likely to miss out on the person you're meant to be with if you have a rigid idea of what your soul mate should look like. Instead, you'll find your soul mate in what you think of as your shortcomings.
"Your soul mate is usually not someone you've imagined, but an entity of love that co-opts a body that mimics all of your imperfections in a way that makes you love yourself more. It will be someone who values qualities about you that you are hesitant to value.
Genesis 2:24 – Being together as one.
Therefore a man shall leave his father and his mother and hold fast to his wife, and they shall become one flesh.

~ Genesis 2:24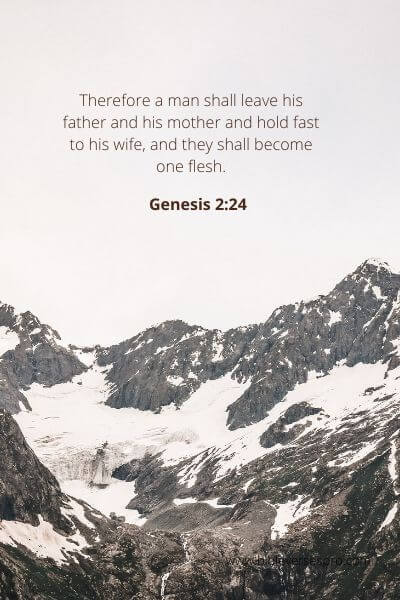 You have to prepare and have the mindset that you shall become one. The Bible talks about a man and a woman coming together as one. you have to build your mind in this direction
1 Peter 4:8 – Love and Affection.
Most important of all, continue to show deep love for each other, for love covers a multitude of sins.

~ 1 Peter 4:8
Learn everything there is to know about yourself by facing the mirror. The precise energy signature you seek is who you are in your most acceptable form.
Hebrews 10:24-25 – Encouraging one another.
And let us consider how we may spur one another on toward love and good deeds, not giving up meeting together, as some are in the habit of doing, but encouraging one another and all the more as you see the day approaching.

~ Hebrews 10:24-25
It's essential to keep in mind that you can't rush the process of meeting your soul mate. "Though it can take some time, everything will come together when the time is right,
If you're the most impatient person ever (hello, it's me), try this advice: "Be patient and keep an optimistic attitude. Spend time improving yourself; consider what you want and will make you happy.
And if your quest for "the one" is wearing you out, don't be afraid to take a break until you're ready to rejoin the dating scene and give it all. You must relax and have faith that your soul mate will show up when the time is right.
Ecclesiastes 4:9-11 – You are better off with your soulmate.
Two are better than one, because they have a good return for their labor: If either of them falls down, one can help the other up. But pity anyone who falls and has no one to help them up. Also, if two lie down together, they will keep warm. But how can one keep warm alone?

~ Ecclesiastes 4:9-11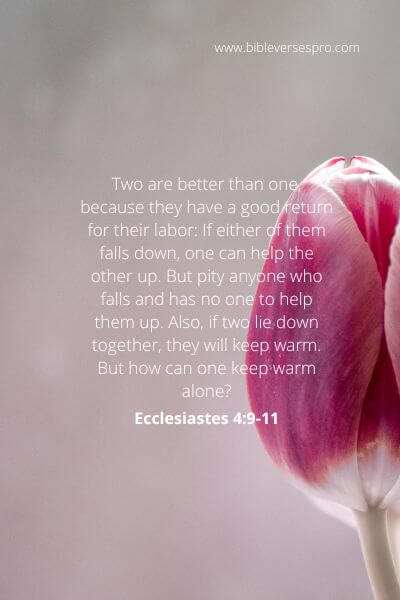 The best thing about having a soulmate is knowing where they stand in your life. You know what they think, how they feel, and what they want from you. You know their good and bad qualities because you've been through them all together. It's not one-sided, though; there is also plenty of room for growth on both sides.
It is essential to acknowledge that although the relationship may be more difficult at times, it isn't necessarily better off without each other. Your partner should not be someone who holds you back from being able to do everything that God wants you to do in life.
Ecclesiastes 4:12 – Acceptability.
Though one may be overpowered, two can defend themselves. A cord of three strands is not quickly broken.

~ Ecclesiastes 4:12
Remember that it's acceptable to ask for advice and that it's also OK not to take all of it when you put yourself out there.
Everyone must realize that failure is a necessary component of success and that being single and looking are both perfectly acceptable.
Ephesians 4:2-3 – Invest in your interest
with all humility and gentleness, with patience, bearing with one another in love, eager to maintain the unity of the Spirit in the bond of peace.

~ Ephesians 4:2-3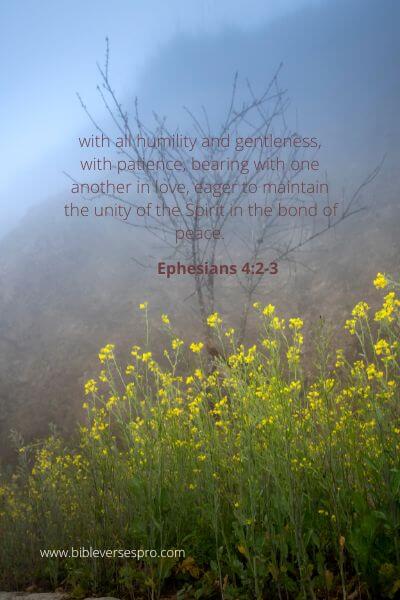 It's not as simple as "invest in all elements of your life" to discover your soul partner. This can take the form of actively taking care of yourself, exercising, investing in your interests, etc.
By doing so, you might discover more about who you are and the kind of person who will complement you the most.
1 Thessalonians 5:11 – Encouraging your soulmate.
Therefore encourage one another to build each other up, just as in fact you are doing.

~ 1 Thessalonians 5:11
This verse dramatically encourages any Christian in a relationship with another believer or searching for a soulmate. It says that if we are faithful, we will reap the rewards from our actions. One example of this is the relationship between husband and wife.
The same principle applies to other relationships: friends, siblings, parents, children, and even neighbors can be tested by Satan at times. But if you keep your eyes on Jesus Christ and rely on His strength and protection, you will be able to survive any temptation coming your way.
Psalm 143:8 – Trust.
Let the morning bring me word of your unfailing love, for I have put my trust in you. Show me the way I should go, for to you I entrust my life.

~ Psalm 143:8 
Even if you put up your best efforts, little will be accomplished if the other person doesn't do the same.
Find someone who values and accepts you for who you are, works to comprehend you and your thoughts and feelings, and is prepared to resolve your differences with respect and a willingness to make concessions.
1 Corinthians 13:4-5 – Finding a committed soulmate
Love is patient, love is kind. It does not envy, it does not boast, it is not proud. It does not dishonor others, it is not self-seeking, it is not easily angered, it keeps no record of wrongs.

~ 1 Corinthians 13:4-5
"Find someone who is committed to a relationship and who is prepared to put in the effort to make it work.
She claims a soul mate relationship is made on purpose; it doesn't just happen.
Does God find your soulmate?
God does not find your soulmate. You do. Your soulmate is the person who completes you and makes you whole. The person who brings out the best in you and helps you become the best version of yourself. The one with whom you want to spend a lifetime.
You will know your soulmate when they make you smile, when they make you laugh and when they make you feel more loved than ever before.
It's not about being with someone because they're perfect or even because they fulfill all your needs in one way or another; it's about finding someone who fits perfectly in your life, which fills up all your gaps, who completes you as a person and brings out the best in both of you. You may be together for years before either of you realizes that this person is exactly what the other half of your personality needed to complete themself.
Bible verses about a soulmate
No, this isn't a post about getting a soulmate in your local bar, although that may be a good idea. Instead, it's a list of Bible verses that describe your true soulmate very well. You'll notice the vast majority of them deal with love and relationships.
Ephesians 5:33
However, each one of you also must love his wife as he loves himself, and the wife must respect her husband

~Ephesians 5:33
When you put effort into understanding one another's requirements while also accepting that one person cannot satisfy all of your wants—physical, social, and practical—relationships flourish.
1 John 4:12
No one has ever seen God; but if we love one another, God lives in us and his love is made complete in us.

~1 John 4:12
"Developing a soul mate relationship requires continual, judgment-free communication. It's not necessary to share all of the same interests to meet your soul mate, but it may be easier if you're both prepared to put in the same amount of work (effort in terms of time, communication, and stepping outside of your comfort zones).
1 John 4:16
And so we know and rely on the love God has for us. God is love. Whoever lives in love lives in God, and God in them.

~1 John 4:16
We should look for someone who believes in Jesus Christ if we are genuinely looking for someone to spend the rest of our lives with.
A God-fearing and believing person, someone that loves God
Corinthians 13:13
And now these three remain: faith, hope and love. But the greatest of these is love.

~Corinthians 13:13
Everything else, including how they appear, their preferred dining establishment, and their sense of humor, is ultimately very unimportant.
Our hobbies and tastes change as we age, and the things that irritate us the most about a person are usually the ones we miss after they are gone.
Romans 12:9
Love must be sincere. Hate what is evil; cling to what is good.

~Romans 12:9
love must be sincere and should come from a clean and pure heart
Bible verse about finding the right person
Finding a friend or significant other can be hard. Nearly all relationships start as friendships which, if they grow into something more, can turn into romantic relationships. If you have ever thought, "I wish someone special would just come along and do things with me!" this Bible verse about finding the right person for you might be for you.
Ecclesiastes 9:9
Enjoy life with the woman whom you love all the days of your fleeting life which He has given to you under the sun; for this is your reward in life and in your toil in which you have labored under the sun.

~Ecclesiastes 9:9
We can love our spouses with a love that can only be discovered via knowing God when we allow Him to conduct a changing work within our hearts.
Psalm 34:8
O taste and see that the Lord is good;
How blessed is the man who takes refuge in Him!

~Psalm 34:8
It takes time and patience to fully trust God and listen to His still, little voice.
We frequently need to rekindle our prayer life and refocus our attention on getting to know Him if we want to hear His voice.
Proverbs 19:8
He who gets wisdom loves his own soul;
He who keeps understanding will find good.

~Proverbs 19:8
Think about yet another benefit of finding a Christian soul mate. They share the same Spirit with you that resides within you; thus, God binds your souls together in a supernatural way.
What a cool thing! Marriage is something that God created. He wants married couples to walk together in harmony and affection. And He offers His Spirit to unite people's hearts in love for one another and Christ. However, you lose this benefit if you wed an atheist.
1 John 4:7
Beloved, let us love one another, for love is from God; and everyone who loves is born of God and knows God.

~1 John 4:7
Proverbs 18:22
He who finds a wife finds a good thing
And obtains favor from the Lord.

~Proverbs 18:22
Bible verses about finding your husband
Finding a husband in the Bible can be a challenging task. This is because of all the characters, places, and cultures we have to choose from. But don't worry — I have created a list with some powerful Bible verses about finding your husband.
Ecclesiastes 2:24
There is nothing better for a man than to eat and drink and tell himself that his labor is good. This also I have seen that it is from the hand of God.

~Ecclesiastes 2:24
Ephesians 3:19
and to know the love of Christ which surpasses knowledge, that you may be filled up to all the fullness of God.

~Ecclesiastes 2:24
Jeremiah 33:3
Call to me and I will answer you, and will tell you great and hidden things that you have not known.

~Jeremiah 33:3
Proverbs 31:10-12
An excellent wife who can find? She is far more precious than jewels. The heart of her husband trusts in her, and he will have no lack of gain. She does him good, and not harm, all the days of her life.

~Proverbs 31:10-12
2 Corinthians 6:14
Do not be unequally yoked with unbelievers. For what partnership has righteousness with lawlessness? Or what fellowship has light with darkness?

~2 Corinthians 6:14
Was this article helpful?