Having hope for the future can be challenging when going through hard times. I know this well. God has used them to challenge and mold me into the man I am today. Even though my experiences with hardship weren't fun, there's a good reason God had me go through them. I believe there are 17 Bible verses about the hope that every Christian can gain.
Let's face it. Hard times are hard. And we all have them. Maybe you're in the middle of a ferocious fight with your spouse right now and don't know when things will improve. Perhaps you lost your job and worry about how you will pay the rent next month, and you have no idea how you'll make it through this one.
Bible verses about hope in hard times.
As Christians, we are called to have hope in God. It's practical to have hope as it gives us a better perspective on life and our futures. Hope helps us persevere during hard times and even happy times. See the listed Bible verses about hope in hard times listed below.
Psalm 25:5 – Be guided by the Word of God.
Guide me in your truth and teach me, for you are God my Savior, and my hope is in you all day long.

~ Psalm 25:5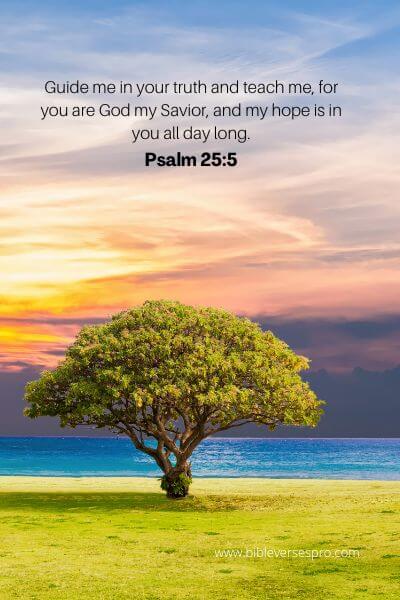 As Christians, we are all aware that Christ offers us hope. We are confident that we can rely on his word whether you are ill or jobless. God's message has the power to touch the heart and mend all shattered minds.
Philippians 1:6 – Be confident.
being confident of this, that he who began a good work in you will carry it on to completion until the day of Christ Jesus.

~ Philippians 1:6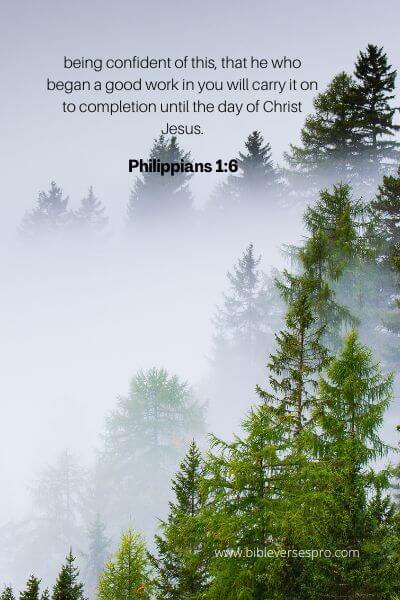 We can strengthen our walk with the Lord by learning to deal with difficult situations. We must turn to the Lord if we begin to feel anxious, distressed, or worried about the challenging times in our lives.
Matthew 19:26 – All things are possible.
But Jesus looked at them and said, "With man this is impossible, but with God all things are possible.

~ Matthew 19:26
Christians can get a lot of knowledge from hardships since they help us develop our faith. Life will have its ups and downs, but both the good and the bad will help us develop. The Lord does not want us to stop growing as Christians. Instead, he desires us to build and strengthen our relationship with Him.
Philippians 4:6-7 – Anxiety and Hope.
Do not be anxious about anything, but in every situation, by prayer and petition, with thanksgiving, present your requests to God. And the peace of God, which transcends all understanding, will guard your hearts and your minds in Christ Jesus.

~ Philippians 4:6-7
Give the Lord control of all your worries. We will always experience fears, challenges, and distress during challenging times. But, even when we experience unpleasant feelings, the Lord can give us the stamina to face them head-on. The Lord will give you strength if you lean on Him.
2 Corinthians 4:17-18 – To the glory of God.
For our light and momentary troubles are achieving for us an eternal glory that far outweighs them all. So we fix our eyes not on what is seen, but on what is unseen, since what is seen is temporary, but what is unseen is eternal.

~ 2 Corinthians 4:17-18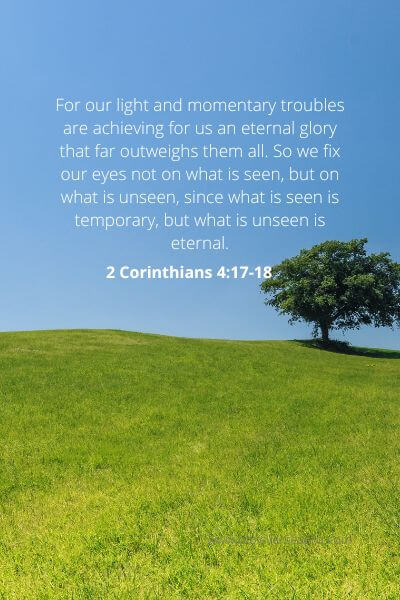 It is normal to have hard times in your life. There will be good times, bad times, and hard times. If you are going through a hard time today, ask God to help you. He might not take you out of the situation, but He will give you His peace.
Romans 8:28 – God's purpose.
And we know that in all things God works for the good of those who love him, who[a] have been called according to his purpose.

~ Romans 8:28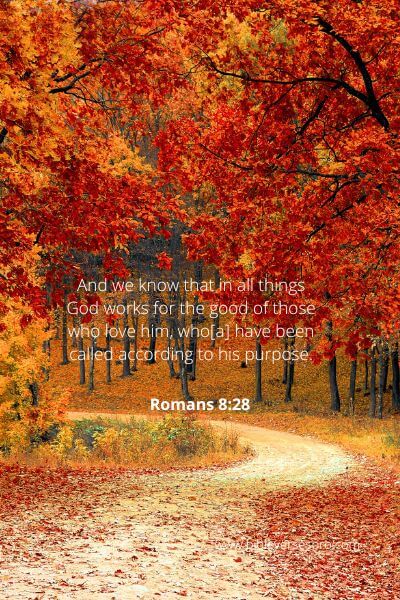 We will experience hardships throughout life due to sin in the world, even though Jesus never wishes to see us in misery. However, God has the power to transform unfavorable circumstances into positive ones. Jesus is with you wherever you are right now, so don't worry about anything.
Jesus is there for you during every difficult time, whether you're struggling with an illness, mourning the loss of a loved one, or losing your job. The Lord promises to hold our hands and guide us through the valley of the shadow of death, but He does not promise to deliver us from these trying times.
Bible verses about hope in hard times with explanation
We know life isn't easy at times, and sometimes the future seems bleak. You might not see a way out of your situation, but that doesn't mean God has given up on you. The Bible is full of verses about hope during difficult times, and here are 17 of them for you.
Exodus 33:14
My Presence will go with you, and I will give you rest

~ Exodus 33:14
This Bible verse contains a lot of significance and optimism. It first demonstrates God's forgiveness and mercy. Second, it draws attention to God's nature as a faithful father who upholds his promises.
Thirdly, it emphasizes how important it is for us to want God's presence. He won't try to impose himself on us. The promise He made to Moses still holds for you today. If you ask for his presence with humility, he will go ahead of you. You will never be alone since he won't abandon you.
Nahum 1:7
The LORD is good, a refuge in times of trouble. He cares for those who trust in him.

~ Nahum 1:7
Because God is a source of strength even in the face of injustice and struggle, this verse is particularly relevant. Although we may not immediately experience his blessing, we are constantly protected by his grace and power because of his goodness, unaffected by our circumstances.
Hosea 2:19
I will betroth you to me forever; I will betroth you in righteousness and justice, in love and compassion.

~ Hosea 2:19
This verse serves as a reminder that the God of love pursues us and longs for a covenant relationship with us regardless of how far we fall. He does this out of pure love, compassion, and fidelity. Despite our shortcomings, we can have hope because of God's constancy.
Matthew 19:29
And everyone who has left houses or brothers or sisters or father or mother or wife or children or fields for my sake will receive a hundred times as much and will inherit eternal life.

~ Matthew 19:29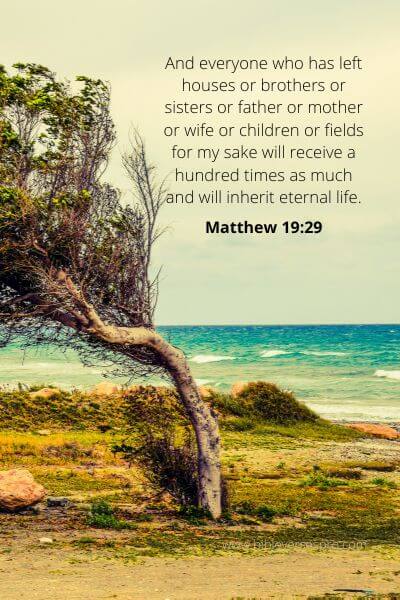 This verse has meaning because Jesus has demonstrated that he is prepared to do anything he asks of us. He sacrificed everything to follow the Lord's will, yet it was simply a short-term solution. As a result, Jesus Christ has been exalted to the right-hand throne of God in glory, where he now rules and atones for all creation, including sin and death.
We can have faith that a good God will provide for us beyond measure any nice thing we may momentarily be without.
Romans 8:15
The Spirit you received does not make you slaves, so that you live in fear again; rather, the Spirit you received brought about your adoption to sonship. And by him we cry, "Abba, Father."

~ Romans 8:15
Because we're all capable of forgetting what's vital occasionally, this verse gives me hope. So we turn our backs on God and pay attention to the issues that worry or divide us.
As adopted sons and daughters, we do not possess a spirit of hostility or fear, as this scripture reminds us. We share the same spirit of power with Jesus Christ, through whom we were adopted.
Psalm 9:10
And those who know Your name put their trust in You, for You, O Lord, have not forsaken those who seek You.

~ Psalm 9:10
Using this verse as a guide, Knowing God and having faith in God are inseparable. Our hope is firmly grounded in who God is, in His goodness, unwavering love, justice, and compassion.
Isaiah 40:31
But those who hope in the Lord will renew their strength. They will soar on wings like eagles; they will run and not grow weary, they will walk and not be faint.

~Isaiah 40:31
Using this verse as a reference, The Lord will give us new, enduring, supernatural power as we wait in faith for Him to intervene on our behalf.
Jeremiah 29:11
For I know the plans I have for you," declares the Lord, "plans for peace and not for calamity, to give you a hope and a future.

~Jeremiah 29:11
God has peace and welfare in mind for us. Because God is in charge of our future, we can always have hope.
Acts 24:15
And I have the same hope in God as these men themselves have, that there will be a resurrection of both the righteous and the wicked.

~Acts 24:15
God is the final judgment of all people on the planet. God's justice motivates us to hope and anticipate the day when He will remedy every wrong in the world.
Romans 5:3-5
Not only so, but we also glory in our sufferings, because we know that suffering produces perseverance; perseverance, character; and character, hope. And hope does not put us to shame, because God's love has been poured out into our hearts through the Holy Spirit, who has been given to us.

~Romans 5:3-5
God's hope is always in the proper place. Hope in God will never disappoint you since God demonstrated His love for us by sending Jesus to die for us and rise again.
Romans 15:13
May the God of hope fill you with all joy and peace as you trust in him, so that you may overflow with hope by the power of the Holy Spirit.

~Romans 15:13
With the help of the Holy Spirit at work in our life, hope is designed to pour from God to His children and then onto everyone we come into contact with.
Was this article helpful?