Many religions and belief systems, including some subsects of Jainism, Buddhism, and Hinduism, hold the idea of reincarnation.
It describes the after-death rebirth of a soul or spirit into a new body. Reincarnation is not a concept mentioned in the Bible, and some Christians consider it to be against Christian doctrine.
bible verses about reincarnation
However, there are some biblical verses that, according to some, support the notion of reincarnation while, according to others, they do not.
Examining biblical passages that discuss reincarnation in this context can be enlightening and stimulating, illuminating the variety of biblical interpretations and the nuanced interactions between various belief systems.
Here are some of the most important related bible verses about reincarnation.
Hebrews 9:27 (ESV) – Live With Purpose Before Judgment
And just as it is appointed for man to die once, and after that comes judgment,
Ecclesiastes 12:7 (ESV) – Spirit Returns To God.
And the dust returns to the earth as it was, and the spirit returns to God who gave it.
Job 14:10-12 (ESV) – Death Is Inevitable, But Find Peace
But a man dies and is laid low; man breathes his last, and where is he? As waters fail from a lake and a river wastes away and dries up, so a man lies down and rises not again; till the heavens are no more he will not awake or be roused out of his sleep.
Psalm 78:39 (ESV) – God Remembers Our Humanity.
He remembered that they were but flesh, a wind that passes and comes not again.
Luke 16:19-25 (ESV) – Prioritize Kindness, Not Wealth.
"There was a rich man who was clothed in purple and fine linen and who feasted sumptuously every day. And at his gate was laid a poor man named Lazarus, covered with sores, who desired to be fed with what fell from the rich man's table. Moreover, even the dogs came and licked his sores.

The poor man died and was carried by the angels to Abraham's side. The rich man also died and was buried, and in Hades, being in torment, he lifted up his eyes and saw Abraham far off and Lazarus at his side. …
2 Samuel 12:23 (ESV) – Find Comfort In Heaven.
But now he is dead. Why should I fast? Can I bring him back again? I shall go to him, but he will not return to me."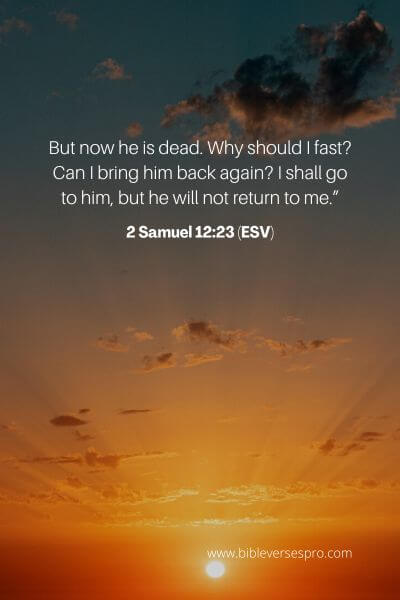 Job 14:14 (ESV) – Hope For Life After Death.
If a man dies, shall he live again? All the days of my service I would wait, till my renewal should come.
Matthew 25:46 (ESV) – Righteous Receive Eternal Life.
And these will go away into eternal punishment, but the righteous into eternal life."
Job 16:22 (ESV) – Accept The Inevitability Of Death.
For when a few years have come I shall go the way from which I shall not return.
Job 7:9-10 (ESV) – Find Peace In The Afterlife.
As the cloud fades and vanishes, so he who goes down to Sheol does not come up; he returns no more to his house, nor does his place know him anymore.
Luke 23:43 (ESV)
And he said to him, "Truly, I say to you, today you will be with me in paradise."
2 Corinthians 5:8 (ESV)
Yes, we are of good courage, and we would rather be away from the body and at home with the Lord.
2 Samuel 14:14 (ESV)
We must all die; we are like water spilled on the ground, which cannot be gathered up again. But God will not take away life, and he devises means so that the banished one will not remain an outcast.
John 3:1-5 (ESV)
Now there was a man of the Pharisees named Nicodemus, a ruler of the Jews. This man came to Jesus by night and said to him, "Rabbi, we know that you are a teacher come from God, for no one can do these signs that you do unless God is with him." Jesus answered him, "Truly, truly, I say to you, unless one is born again he cannot see the kingdom of God."

Nicodemus said to him, "How can a man be born when he is old? Can he enter a second time into his mother's womb and be born?" Jesus answered, "Truly, truly, I say to you, unless one is born of water and the Spirit, he cannot enter the kingdom of God. …
Luke 1:17 (ESV)
And he will go before him in the spirit and power of Elijah, to turn the hearts of the fathers to the children, and the disobedient to the wisdom of the just, to make ready for the Lord a people prepared."
John 5:28-29 (ESV)
Do not marvel at this, for an hour is coming when all who are in the tombs will hear his voice and come out, those who have done good to the resurrection of life, and those who have done evil to the resurrection of judgment.
Job 10:21 (ESV)
Before I go—and I shall not return— to the land of darkness and deep shadow,
John 9:1-5 (ESV)
As he passed by, he saw a man blind from birth. And his disciples asked him, "Rabbi, who sinned, this man or his parents, that he was born blind?" Jesus answered, "It was not that this man sinned, or his parents, but that the works of God might be displayed in him. We must work the works of him who sent me while it is day; night is coming, when no one can work. As long as I am in the world, I am the light of the world." …
Job 19:26 (ESV)
And after my skin has been thus destroyed, yet in my flesh I shall see God,
Ecclesiastes 12:5 (ESV)
They are afraid also of what is high, and terrors are in the way; the almond tree blossoms, the grasshopper drags itself along, and desire fails, because man is going to his eternal home, and the mourners go about the streets—
Job 8:12-13 (ESV)
While yet in flower and not cut down, they wither before any other plant. Such are the paths of all who forget God; the hope of the godless shall perish.
Daniel 12:2 (ESV)
And many of those who sleep in the dust of the earth shall awake, some to everlasting life, and some to shame and everlasting contempt.
Isaiah 43:16-17 (ESV)
Thus says the Lord, who makes a way in the sea, a path in the mighty waters, who brings forth chariot and horse, army and warrior; they lie down, they cannot rise, they are extinguished, quenched like a wick:
2 Corinthians 5:10 (ESV)
For we must all appear before the judgment seat of Christ, so that each one may receive what is due for what he has done in the body, whether good or evil.
Hebrews 8:12 (ESV)
For I will be merciful toward their iniquities, and I will remember their sins no more."
Matthew 17:12 (ESV)
But I tell you that Elijah has already come, and they did not recognize him, but did to him whatever they pleased. So also the Son of Man will certainly suffer at their hands."
Matthew 24:35 (ESV)
Heaven and earth will pass away, but my words will not pass away.
Job 1:21 (ESV)
And he said, "Naked I came from my mother's womb, and naked shall I return. The Lord gave, and the Lord has taken away; blessed be the name of the Lord."
John 11:24-26 (ESV)
Martha said to him, "I know that he will rise again in the resurrection on the last day." Jesus said to her, "I am the resurrection and the life. Whoever believes in me, though he die, yet shall he live, and everyone who lives and believes in me shall never die. Do you believe this?"
Psalm 6:5 (ESV)
For in death there is no remembrance of you; in Sheol who will give you praise?
Hebrews 5:9 (ESV)
And being made perfect, he became the source of eternal salvation to all who obey him,
Hebrews 2:10 (ESV)
For it was fitting that he, for whom and by whom all things exist, in bringing many sons to glory, should make the founder of their salvation perfect through suffering.
Romans 6:23 (ESV)
For the wages of sin is death, but the free gift of God is eternal life in Christ Jesus our Lord.
Luke 20:35-40 (ESV)
But those who are considered worthy to attain to that age and to the resurrection from the dead neither marry nor are given in marriage, for they cannot die anymore, because they are equal to angels and are sons of God, being sons of the resurrection.

But that the dead are raised, even Moses showed, in the passage about the bush, where he calls the Lord the God of Abraham and the God of Isaac and the God of Jacob.

Now he is not God of the dead, but of the living, for all live to him." Then some of the scribes answered, "Teacher, you have spoken well." …
bible verses about reincarnation of animals
Although the idea of reincarnation is frequently connected to the rebirth of human souls, some religions and belief systems also embrace the notion that animals can experience rebirth.
A few verses in the Bible are interpreted by some as implying the possibility of animal reincarnation or resurrection.
Scholars and believers continue to interpret and disagree on this subject. Here are some related bible verses about animals reincarnating
Ecclesiastes 3:19-20 (ESV)
For what happens to the children of man and what happens to the beasts is the same; as one dies, so dies the other. They all have the same breath, and man has no advantage over the beasts, for all is vanity. All go to one place. All are from the dust, and to dust all return.
Ecclesiastes 12:7 (ESV)
And the dust returns to the earth as it was, and the spirit returns to God who gave it.
Luke 3:6 (ESV)
And all flesh shall see the salvation of God.'"
Isaiah 11:6-9 (ESV)
The wolf shall dwell with the lamb, and the leopard shall lie down with the young goat, and the calf and the lion and the fattened calf together; and a little child shall lead them.

The cow and the bear shall graze; their young shall lie down together; and the lion shall eat straw like the ox. The nursing child shall play over the hole of the cobra, and the weaned child shall put his hand on the adder's den.

They shall not hurt or destroy in all my holy mountain; for the earth shall be full of the knowledge of the Lord as the waters cover the sea.
Job 12:10 (ESV)
In his hand is the life of every living thing and the breath of all mankind.
Proverbs 12:10 (ESV)
Whoever is righteous has regard for the life of his beast, but the mercy of the wicked is cruel.
Psalm 36:6 (ESV)
Your righteousness is like the mountains of God; your judgments are like the great deep; man and beast you save, O Lord.
Isaiah 65:25 (ESV)
The wolf and the lamb shall graze together; the lion shall eat straw like the ox, and dust shall be the serpent's food. They shall not hurt or destroy in all my holy mountain," says the Lord.
Ecclesiastes 3:21 (ESV)
Who knows whether the spirit of man goes upward and the spirit of the beast goes down into the earth?
Revelation 21:4 (ESV)
He will wipe away every tear from their eyes, and death shall be no more, neither shall there be mourning, nor crying, nor pain anymore, for the former things have passed away."
Genesis 1:30 (ESV)
And to every beast of the earth and to every bird of the heavens and to everything that creeps on the earth, everything that has the breath of life, I have given every green plant for food." And it was so.
Revelation 5:13 (ESV)
And I heard every creature in heaven and on earth and under the earth and in the sea, and all that is in them, saying, "To him who sits on the throne and to the Lamb be blessing and honor and glory and might forever and ever!"
Romans 8:19-23 (ESV)
For the creation waits with eager longing for the revealing of the sons of God. For the creation was subjected to futility, not willingly, but because of him who subjected it, in hope that the creation itself will be set free from its bondage to corruption and obtain the freedom of the glory of the children of God.

For we know that the whole creation has been groaning together in the pains of childbirth until now. And not only the creation, but we ourselves, who have the firstfruits of the Spirit, groan inwardly as we wait eagerly for adoption as sons, the redemption of our bodies. …
Genesis 1:21 (ESV)
So God created the great sea creatures and every living creature that moves, with which the waters swarm, according to their kinds, and every winged bird according to its kind. And God saw that it was good.
Conclusion
The idea of reincarnation in the Bible is subject to numerous interpretations and discussions.
Others contend that the Bible does not lend credence to this belief, despite some contending that certain verses make explicit references to reincarnation.
Regardless of individual viewpoints, it is obvious that the idea of rebirth and resurrection is fundamental to the Christian faith, and there are many passages in the Bible that describe the afterlife and the ultimate destiny of our souls.
It is important to approach these discussions with an open mind and a willingness to engage in respectful dialogue with others, whether or not one believes in reincarnation.
Ultimately, the search for spiritual truth is a deeply personal journey, and each individual must determine their beliefs based on their own interpretation of the scriptures and their personal relationship with God.
Was this article helpful?