You'll find many biblical verses about sleeping well, but that doesn't mean there's no difference between them. We need to look at the context in which these verses were written. They were all given by God himself, and he wanted us to live good life.
Bible Verses about Sleeping Well
A good night's sleep is essential to your physical and mental health, and the Bible is filled with passages on this subject. Although there are numerous references to the importance of sleep, I've compiled these 19 Bible verses about Sleeping Well to help guide you.
John 14:27 – Peace I leave with you.
"Peace I leave with you, my peace I give you. I do not give to you as the world gives. Do not let your hearts be troubled and do not be afraid."

John 14:27 (NIV)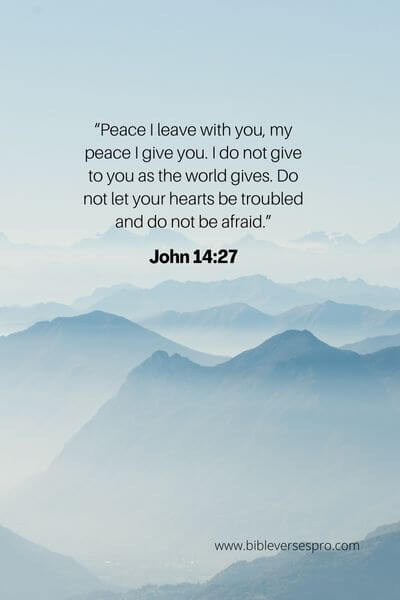 I am sure you would agree that right now, what we need in our hearts is peace. With that in mind, now is an excellent time to understand the meaning and context of John 14:27 fully.
This peace that Jesus referred to is a state of rest, quiet, or stillness in your heart. It is not the absence of difficulty but exists despite the problem. This peace perseveres in the face of all the upsetting circumstances that life can throw at you, and it gives you the ability to endure and remain calm in adversity.
This peace does not eliminate conflict or trouble but equips you to deal with it. Consider it an inner assurance that God will come through in this situation, removing your fear and worry and replacing it with peace.
Psalm 91:1-5,11 – God will give you strength and comfort in every battle we face.
"Whoever dwells in the shelter of the Most High will rest in the shadow of the Almighty. You will not fear the terror of night, nor the arrow that flies by day. For he will command his angels concerning you to guard you in all your ways."

Psalm 91:1-5,11 (NIV)
The fact that we are under God's care does not prevent storms from forming around us. However, it gives us incredible strength and comfort in every battle.
But the storms never have complete control because He reminds us right in the midst: You are secure in the hands of a Mighty God.
You may feel the wind, thunder, darkness, or rain all around you. However, His shield of protection and love surrounds you.
Psalm 4:8 – Bring your requests to the Lord
"I will both lay me down in peace, and sleep: for thou, LORD, only makest me dwell in safety."

Psalm 4:8 (KJV)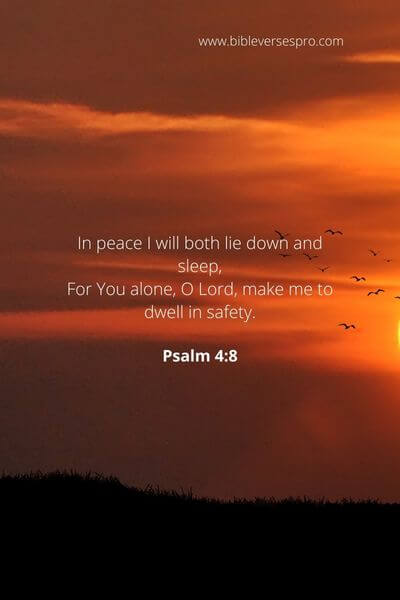 In this life, none of us are immune to adversity. But God promises to transform anxiety into peaceful assurance to all believers who trust Him by calling out to Him in prayer. Only the sovereign God, who rules supreme over the universe, can put our troubled and fearful hearts at ease.
Only the Lord's supernatural, serene contentment allows us to sleep through the night, even amid adversity's fiery furnace. Remember that prayer is your most powerful tool in times of trouble.
Bring your requests to the Lord, and then allow His supernatural peace to flood your soul with quiet reassurance that exceeds human comprehension.
Matthew 11:28-30 – He can give you rest if you're tired and struggling.
"Come to me, all you who are weary and burdened, and I will give you rest. Take my yoke upon you and learn from me, for I am gentle and humble in heart, and you will find rest for your souls. For my yoke is easy and my burden is light."

Matthew 11:28-30 (NIV)
This is a personal invitation from Jesus. He can give you rest if you're tired and struggling. This also describes the path to God the Father, but it is not one of toil and laboring. Following Jesus relieves us of the burden of our sins because He has already completed that work.
We must place our hope, faith, and trust in Jesus. Taking His yoke means committing to Him and placing ourselves under His protection and authority at all times.
Peter 5:7 – We will find rest in him.
"Casting all your anxieties on him, because he cares for you."

Peter 5:7 (ESV)
Jesus invites us to come to Him and cast our burdens or cares on Him. When we do, the promise is that our souls will find rest, and the assurance stems from who He is.
We can pray to Him with our concerns, and our souls will find rest as we trust Him to help us carry it and sustain us through the trial.
Psalm 4:8 – God is on guard.
In peace I will both lie down and sleep,
For You alone, O Lord, make me to dwell in safety.

Psalm 4:8 (NIV)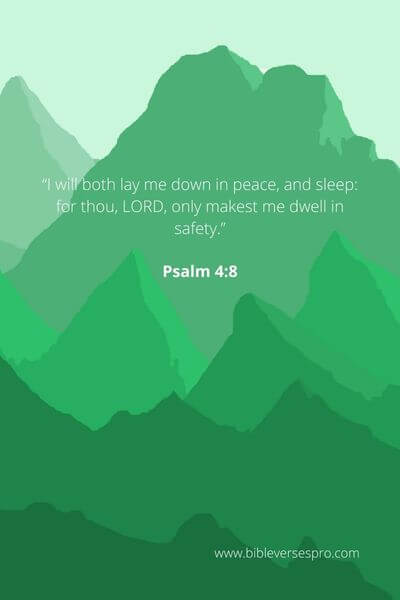 Sweet sleep comes to a secure soul. Wise is he who, before going to bed, pours out his heart to Jesus. Fear is foreign to those who sleep peacefully in the arms of their Savior.
God is on guard, so you don't have to sit up and take notice of what's going on. You can sleep by faith and wake rested and refreshed. A good night's sleep is a gift from God that can be received through faith.
Proverbs 3:24 – Sweet sleep is a result of trusting in the Lord.
When you lie down, you will not be afraid;
When you lie down, your sleep will be sweet.

Proverbs 3:24 (NIV)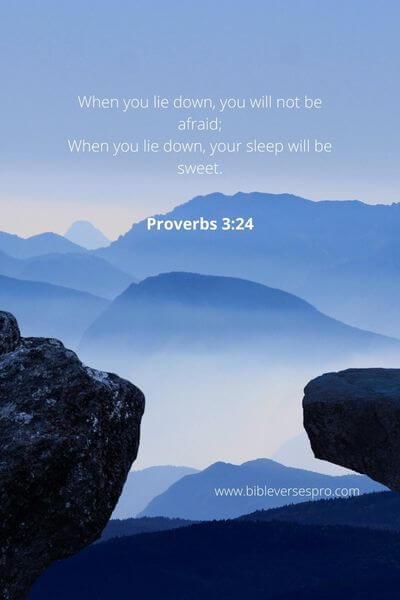 Solomon says that sweet sleep results from trusting in the Lord and seeking His wisdom. That is easier said than done, of course, but Proverbs gives us a way forward: trust the Lord, seek His knowledge, and rest in His watchful care.
To summarize, restful, peaceful sleep results from living in the right relationship with the Creator of the Universe.
If you are having trouble sleeping, use that time to pray and ask God for wisdom.
Give Him your worries, acknowledging that He alone is in control. Seek wisdom and place your trust in the Lord.
Psalm 3:5 – You can't control yourself or what happens while you sleep.
I lay down and slept;
I awoke, for the Lord sustains me.

Psalm 3:5 (NIV)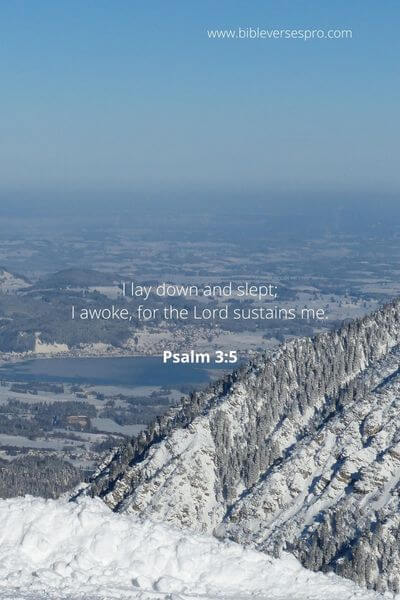 One of the causes of the inability to sleep is the fear of not being able to wake up. It isn't always voluntary – you can't control yourself or what happens while you sleep.
What gives you the confidence that you'll wake up at the end of the night? What gives you such hope that you'll be able to open your eyes again?
God's peace allows us to face anything, even a storm. It all comes down to turning things over to the Lord and trusting him with everything. Isaiah 26: 3–4 (KJV) says, "Thou wilt keep him in perfect peace, whose mind is stayed on thee: because he trusts in thee." "Trust in the LORD forever: for in the LORD JEHOVAH is everlasting strength."
Isaiah 32:18 – Go to the Lord with your requests.
My people will live in peaceful dwelling places,
in secure homes, in undisturbed places of rest

Isaiah 32:18 (NIV)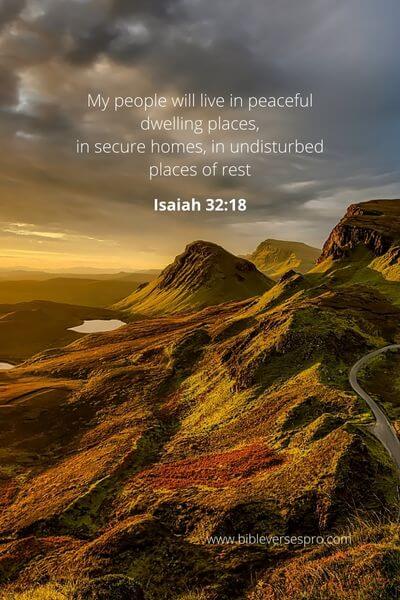 When God's Spirit is poured out on His people, they receive the following blessings: justice, righteousness, peace, quietness, and assurance forever.
When we lack these things, we can go to the Lord and request that He pour His Spirit on us. When God pours His Spirit on us, we will live on a higher principle than our circumstances.
Under the ministry of the Word and divine management, God promises that we will enjoy spiritual prosperity and safety, great peace and quietness, comfort and rest, even amid chaos.
Job 3:13 – Peace is attainable through the power of prayer.
For now I would be lying down in peace;
I would be asleep and at rest

Job 3:13
Finding inner peace may appear simple, but it is often easier said than done. Whether you're dealing with financial difficulties, relationship problems, or any other impediment to joy, peace may appear unattainable at the moment — but it is, in fact, attainable through the power of prayer.
The Bible can help you overcome any difficulties you may face when feeling overwhelmed.
God is all-powerful and can bless you with inner strength and eternal peace. Evil will never triumph over good, and those who follow God's instructions will find peace. Keep your faith and an open heart because His love knows no bounds.
Bible Verses Concerning Sleep
Working hard can take its toll on your body, and you have to balance all the things you need to accomplish, and sometimes that means ignoring your physical needs for a little bit. However, these verses have some great advice on increasing efficiency and productivity without sacrificing your health by sleeping well.
Psalm 127:2
In vain you rise early
and stay up late,
toiling for food to eat—
for he grants sleep to[a] those he loves.

Psalm 127:2 (NIV)
Sleep is a gift from the Lord to His cherished children, and God created our bodies to sleep for an extended period each day. However, the benefits of sleep are not limited to righteous men because God is good and gracious to all humanity.
On the other hand, those who are His children receive gifts and graces from the Lord even when they are fast asleep and unaware of His good work within.
As we abide in Him and rest in His love, the Lord bestows on us His perfect peace, which surpasses human comprehension, and assures us that He will be with us until the end of the age.
Jeremiah 31:26
At this I awoke and looked around. My sleep had been pleasant to me..

Jeremiah 31:26 (NIV)
While the world around you is filled with anxiety and restlessness, God has the ability and desire to make your mind calm and tranquil. Others may be anxious, fretting, and worried, but those who trust God can sleep soundly.
Proverbs 4:16
For they cannot rest until they do evil;
they are robbed of sleep till they make someone stumble

Proverbs 4:16 (NIV)
Fear, like mourning, can strike at night, and our thoughts can run wild when we are quiet. People who follow the path of wickedness and violence will not be able to sleep peacefully until they obtain what they desire.
We are not to follow in their footsteps. Instead, we can take control of our thoughts and direct them to God's protection.
Ecclesiastes 5:12
The sleep of a laborer is sweet,
whether they eat little or much,
but as for the rich, their abundance
permits them no sleep.

Ecclesiastes 5:12 (NIV)
The more we have, the more concerned we become about keeping it. What we think about all day tends to follow us to bed. It can be challenging to let go of the stresses and questions of the day long enough to sleep. When that becomes our routine, we say we have insomnia.
The best way to cure insomnia caused by sin is to correct our wrongs. God promises to forgive and cleanse those who confess their sins and belong to Him (1 John 1:9). The best sleep formula is a clear conscience.
Leviticus 26:6
"'I will grant peace in the land, and you will lie down and no one will make you afraid. I will remove wild beasts from the land, and the sword will not pass through your country.

Leviticus 26:6 (NIV)
There is nothing to be afraid of if you follow His decrees and carefully obey His commands (26:3). The entire world is in the hands of the one true God. Our Creator is keeping an eye on us. How reassuring is that single sentence? We're all clinging to his promises because they give us a reason not to be afraid.
Bible Verses That Help With Sleep
You've heard it for years, and now you know there's truth in it—sleeping well is healthy for you. These Bible verses about sleeping well will help boost your spiritual health with regular sleep.
Psalm 3:5
I lie down and sleep;
I wake again, because the Lord sustains me.

Psalm 3:5 (NIV)
We may not always be aware of all the potentially dangerous situations from which God rescues us, but we can have faith that nothing happens outside His power or control. Pour your heart into God and rest peacefully, knowing He is in control.
Psalm 46:10
He says, "Be still, and know that I am God;
I will be exalted among the nations,
I will be exalted in the earth."

Psalm 46:10 (NIV)
In times of adversity, God is our refuge. God is ready to assist us, and we can trust Him.
There is no need to be afraid no matter what happens around us or on the planet. We are to stop fighting in our strength and surrender to Him, who will assist us in fighting our battles.
Our human strength cannot match God's, and fighting is pointless when we would instead leave the matter in God's hands.
Matthew 6:34
"So don't worry about tomorrow, for tomorrow will bring its own worries. Today's trouble is enough for today."

Matthew 6:34 (NIV)
Anxiety about tomorrow's problems will sap your strength for today. Worrying will steal your joy and make you ineffective for the work God wants to do throughout your life.
If Satan can keep you immobilized by fear, he can take away your desire to serve Christ in this generation. It is the will and command of the Lord Jesus that we obtain strength to bear up under our daily troubles and to arm us against the temptations that accompany them through daily prayers, and then let none of these things move us.
Moreover, each day has too many unavoidable worries for us to be concerned about the future.
Psalm 116:7 
"Return to your rest, my soul, for the LORD has been good to you."

Psalm 116:7 (NIV)
Bring any complaints, frustrations, questions, or accusations to God. He'll take it.
Please do not be afraid to cry out to God in your time of distress, struggle, confusion, deep sorrow, pain, regret, and great need, as the Psalmist did. God sees and knows everything, and He already knows your heart.
So, please, pray to God and allow Him to return your soul to rest.
Was this article helpful?