The most difficult thing to deal with in our lives is God's timing even when we know that God's timing is always right. Many times we get impatient when we see things not happening our way or the way we believe it could be happening. We look at others and envy their lifestyle, job or whatever it may be and wish that someday we will also have what they have right now. Sometimes people get so frustrated that they stop believing that God has a good plan for them. I understand because I have been there myself.
We must learn to wait patiently for Him to act on our behalf as believers. If you've been praying and waiting for something that seems to be taking longer than expected, it's natural to become upset and impatient when it seems like the thing you're waiting for will never arrive. Remember that God is in control and will take care of you in His own time.
God's timing is always right
Just because it doesn't happen in my time frame, doesn't mean it isn't happening now. And just because it's not happening to me, or I haven't seen the evidence of it happening, isn't a reason to doubt. God's timing is always right and when he says He'll do something, He always does.
What is God's perfect timing?
God's perfect timing is never too soon, and it's never too late.
The timing of God is impeccable. God knows when you require something and when it will occur. He also understands when you don't require it and when it is unlikely to occur. He will not disappoint you. You can put your trust in Him with your future, and He will lead you to the ideal location at the ideal time.
"For I know the plans I have for you," declares the Lord, "plans to prosper you and not to harm you, plans to give you hope and a future."

Jeremiah 29:11 NIV
What does God say about his timing?
God says His timing is the best for there is always an appointed time for everything.  God is a God of timing, Hour by hour, minute by minute, God's time is passing us by. Many people appear to believe that they may live according to their own schedules and that they can worship God whenever they want.
There is an appointed time for everything. And there is a time for every event under heaven–

Ecclesiastes 3:1(NASB)
We must comprehend the seasons and timings that God has established for our lives, ministries, towns, and nations for we often try to reap during planting season, plant during harvest season, run when we should be resting, and rest when we should be running.
Can you trust God's timing?
Yes, we can trust God's timing for God knows everything and we don't. God knows the future and the past and everything he plans comes to pass
Only I can tell you the future before it even happens. Everything I plan will come to pass, for I do whatever I wish.

Isaiah 46:10 NLT
You can trust his timing because if he says he'll do something, he'll do it no matter how long it takes. When he promised you, he didn't make a mistake. It was planned and purposeful.
You can trust his timing because He is always on time. He isn't on our schedule, but he is on time. In God's eyes, a day is like a thousand years, and a thousand years are like a day, according to the Bible. So, remember that two years is like seconds to God when you've been waiting for two years and it feels like an eternity. He sees the larger picture, which we don't. He's never late, so trust his timing.
How do you wait on God's perfect timing?
Waiting on God's Perfect Timing is not a passive activity; rather, it is characterized by active dependence on and obedience to God. As a result, waiting on God is a spiritual discipline that we should strive to master.
How do you wait on God's timing? here are ways you can wait on God's perfect timing.
1.  Accepting God's universal control of everything
We must first recognize that God is sovereign and that nothing we are experiencing is outside of his everlasting decision and direct oversight. We must first wait on the Lord by admitting his sovereign purpose in our problem, no matter how much we want to "fix" it. We'd make an even larger mess if it were up to us. God will complete the task far more effectively than we could.
2. Be  Patient
What does the Lord want us to learn from this? Patience. Patience is a Virtue for it should drive us to hope in God. We can best hear God speak to us through his Word when we are Patient and silent.
"I wait for the LORD, my soul waits, and in his word I hope; my soul waits for the Lord more than watchmen for the morning, more than watchmen for the morning."

Psalm 130:5–6
3. Learning to grow in understanding and obeying God's commands
We are to grow in our understanding of the Lord and his commands while we wait for him. We must also be diligent in our search for him and in applying his law to our lives. And why? So that we might stay near to God, our Father, and avoid falling into error or disobedient patterns.
"Make me to know your ways, O Lord; teach me your paths. Lead me in your truth and teach me, for you are the God of my salvation; for you I wait all the day long."

Psalm 25:4-5
4. Constant Prayer
Waiting should not be synonymous with inaction. Instead, we should be actively asking for rescue from the Lord. Remember: the Church should be praying when the rest of the world is panicked.
"Rejoice in hope, be patient in tribulation, be constant in prayer." Romans 12:12
5. Resisting unnecessary fear and worry
In risky situations, fear can be a useful response. It can, however, become overwhelming and cause us to lose sight of Christ. Waiting on God, according to Scripture, includes not being enslaved by fear and worry. God himself is the answer to our fears.
"When I am afraid, I put my trust in you. In God, whose word I praise, in God I trust; I shall not be afraid. What can flesh do to me? "

Psalm 56:3-4
6. Dwell on the Blessings
Above all, look for happiness and blessings wherever you are. Instead of concentrating on your destination, look around you for the blessings that already exist. Even if your situation is dark and stormy, be extra careful to look for benefits.
And now, dear brothers and sisters, one final thing. Fix your thoughts on what is true, and honorable, and right, and pure, and lovely, and admirable. Think about things that are excellent and worthy of praise.

Philippians 4:8 NLT
The importance of waiting on god's timing
The importance of waiting on God's timing is emphasized throughout the Bible. Indeed, several of these verses even tell us what will happen if we wait on Him. Waiting on God produces the following results, according to Isaiah 40:31:
But they that wait upon the Lord shall renew their strength; they shall mount up with wings as eagles; they shall run, and not be weary; and they shall walk, and not faint.

Isaiah 40:31(KJV)
The truth is that when we make our objectives and lists, we frequently overlook the most crucial aspect – God. When we leave God out of our plans and lists, they are certain to fail. There are no guarantees that everything will turn out the way we want it to.
As written by David in Psalm 37:7
Rest in the Lord, and wait patiently for him: fret not thyself because of him who prospereth in his way, because of the man who bringeth wicked devices to pass.

Psalm 37:7(KJV)
God "acts on behalf of those who wait for him," according to Isaiah 64:4. Waiting is an act of humility and devotion. We are humbled and accept that God's thoughts and ways are greater than ours when we choose to wait on Him (Isaiah 55:8-9). It is important to know that God does not do things in our own time but in his time and will, therefore God is asking you to trust Him.
This period of waiting is a necessary part of your journey,  Stop wishing for it to end. Take solace in the fact that you don't require all of the solutions. You only require the next stage in his strategy. No matter how long this struggle lasts, it is an opportunity to learn, grow closer to God, and discover joy.
7 Bible Verses About God's Perfect Timing
God is in control. The future is shaped by God's eternal plan. God has a higher purpose for your life, even when it doesn't seem to make sense to you. These Bible verses about God's perfect timing demonstrate that God's ways are not our ways and He works in mysterious ways we can't see with our eyes.
Ecclesiastes 3:11 – The Mystery Of God
He has made everything beautiful in its time. He has also set eternity in the human heart; yet no one can fathom what God has done from beginning to end

Ecclesiastes 3:11 NIV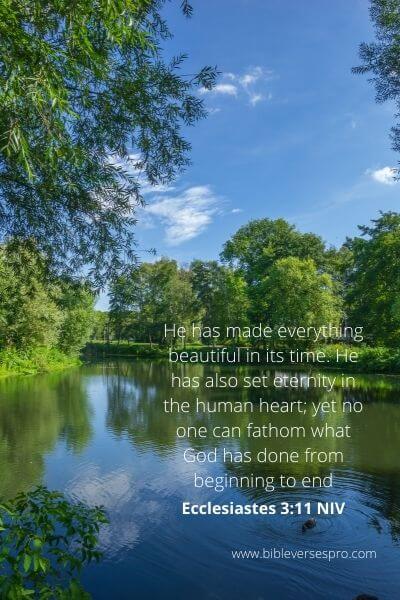 This Bible verse has made known that man does not and will not understand the ways of the Lord for everything is in His perfect timing. Therefore we are to lean not on our own understanding but we are to trust and wait for Him to fulfill His will in our lives.
Proverbs 16:9 – God leads
" In their hearts, humans plan their course, but the Lord establishes their steps."

Proverbs 16:9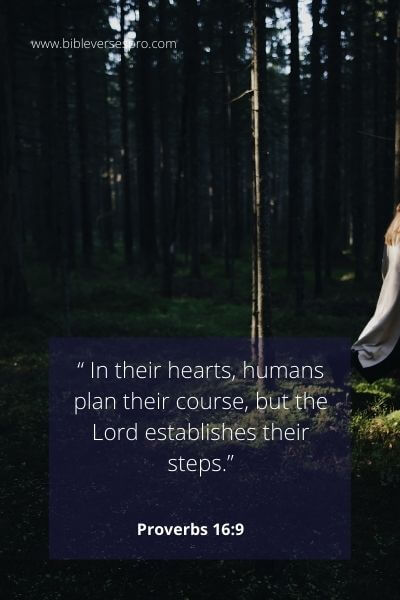 We often plan out lives and futures occasionally it's a good thing, but most of the time it's not. We quickly find ourselves disappointed and even disoriented when we make a long-term goal in our hearts. But if we trust in the Lord and allow Him to lead us to where we need to be.
Ecclesiastes 3:1 – His Timing
"There is a time for everything, and a season for every activity under the heavens"

Ecclesiastes 3:1
God promises us that there will be time for everything, although things will not be easy this is the more reason we should trust and wait patiently for His Timing.
1Timothy 6:15 – His Reward
which He will bring about at the proper time—He who is the blessed and only Sovereign, the King of kings and Lord of lords,

1 Timothy 6:15
In this verse, we are promised the second coming of Jesus Christ which will be at the perfect timing of God. As Christians, we are not to lose hope and faith in God while we wait on Him.
Habakkuk 2:3 – God's time does not Lie
For still the vision awaits its appointed time; it hastens to the end—it will not lie. If it seems slow, wait for it; it will surely come; it will not delay." Habakkuk 2:3
This Bible verse shows how a prophecy from God comes to reality when God's time is right, under God's power, rather than when we want it to. Habakkuk urged those who heard the prophecy to believe because the Savior would undoubtedly come.
Genesis 18:14 – Nothing is hard for the Lord
"Is anything too hard for the Lord? At the appointed time I will return to you, about this time next year, and Sarah shall have a son."

Genesis 18:14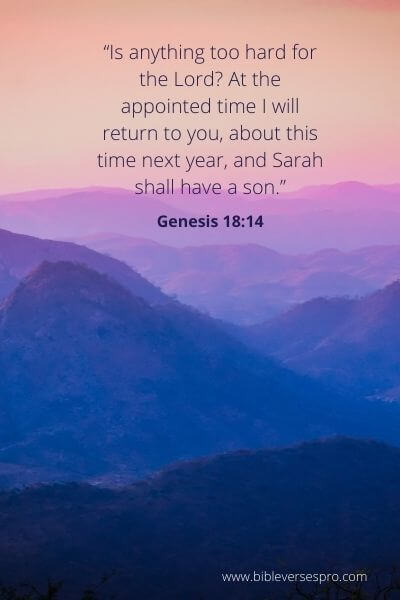 Sarah had a lot of worries when God made some of the most incredible promises to Abraham, but Abraham also had doubts about whether he and Sarah would be able to have a child in their old age. Abraham had to wait a long time, but God came through in His perfect timing and Isaac was born. He certainly did! He is God.
2 Peter 3:8 – God is patient
But do not overlook this one fact, beloved, that with the Lord one day is as a thousand years, and a thousand years as one day.

2 Peter 3:8
God is patient with us and we in return should be patient with him. It is very easy to compare ourselves to others and wonder why something has come through for them but it has yet to happen for us. We need to understand that there is a purpose and reason for everything that happens.
Conclusion
We all have questions about God's timing. Maybe we feel like He's missed the mark on something we care deeply about. Or maybe you're concerned that His response to your prayers isn't what you think it should be. So how can you reconcile the idea of a God who has all the time in the world with the reality of a universe that operates on a strict timetable?
Was this article helpful?