It can be challenging to know the powerful Scripture when someone talks bad about you. One approach you might consider is to turn to the wisdom of scripture for guidance and comfort.
It can be difficult and hurtful when someone speaks poorly of us, but it is important to remember that our ultimate identity and worth are not determined by what others say about us.
Instead, we can find our identity and worth in who God says we are.
Scripture When Someone Talks Bad About You
We can find comfort and hope in knowing that God is with us and for us and that His love for us is unwavering and unconditional.
When we anchor ourselves in His love, we can weather the storms of life, including the problematic words and actions of others.
Proverbs 11:13-We Need To Be Mindful Of Our Tongue
Whoever goes about slandering reveals secrets,
but he who is trustworthy in spirit keeps a thing covered

Proverbs 11:13(ESV)

The Bible describes one who slanders as a secret revealer and says that he who keeps a thing covered is trustworthy in the heart.
Evaluating the characters mentioned in verse, it is advised that we should not be slandered, especially when people offend us through words, because we may unintentionally let out things we should not have said.
We should learn to be protective, particularly as God's children. Try to keep things to yourself, not in unforgiveness or grudges but in forgiveness because we are trustworthy in the heart, so let's live out such a life.
Proverbs 18:8- We Should Be Wise.
The words of a whisperer are like delicious morsels;
they go down into the inner parts of the body.

Proverbs 18:8(ESV)
Whispering is seen as wickedness before God, and God dislikes this act. Whispering damages the reputation of the person with the fault and could bring long-term consequences that can't be erased.
When you speak hurtful words, those who hear you negatively view the person you are talking about.
So when people speak badly about you, don't go whispering about them to others because you will create irremovable scares in the mind of others about them.
Proverbs 16:28- Our Tongue Is A Powerful Weapon.
A dishonest man spreads strife,
and a whisperer separates close friends.

Proverbs 16:28(ESV)
The Bible referred to people who cause strife as dishonest. When people talk badly about you, they aim to bring bitterness to you.
The excellent step to take when you notice such towards you is to get rid of such a person because he only brings you trouble.
Matthew 5:44- Love is Paramount In Christendom.
But I say to you, Love your enemies and pray for those who persecute you,

Matthew 5:44(ESV)
God is a God of love and expects us to reflect his nature here on earth.
When faced with hate speech, you should not make enemies of those who do so to you.
Instead, you should first love them and, secondly, pray for them. For by doing so, you create room for God to work in their heart and change them.
Romans 12:19- Vengeance is of God.
 Beloved, never avenge yourselves, but leave it to the wrath of God, for it is written, "Vengeance is mine, I will repay, says the Lord."

Romans 12:19, ESV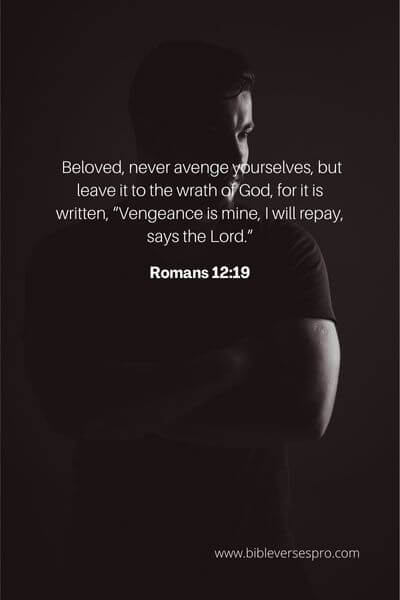 In this verse, the Bible guides us against taking the law into our hands against people.
Trying to seek revenge on people who have poorly spoken about us is taking God out of the scene, and we cause much harm.
We are charged to let God fight for us because he knows how to handle every individual best.
James 4:11-12- God Is The Judge.
 Do not speak evil against one another, brothers. The one who speaks against a brother or judges his brother, speaks evil against the law and judges the law. But if you judge the law, you are not a doer of the law but a judge. There is only one lawgiver and judge, he who is able to save and to destroy. But who are you to judge your neighbor?

James 4:11-12 ESV
James warns us against judging others. Judging others is taking the place of authority over them, and it is assuming God's position of control over a man.
When people talk bad about you, don't judge because God is the lawgiver, and he should be the judge, not man.
Proverbs 29:11- We Should Be Wise As The Serpent.
A fool gives full vent to his spirit,
but a wise man quietly holds it back.

Proverbs 29:11(ESV)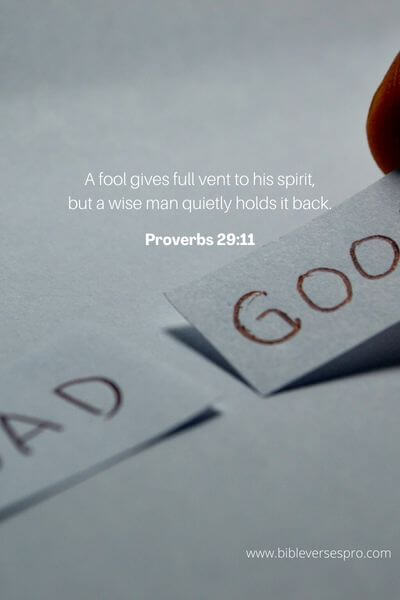 The Bible, in various ways, has shown us the act of a fool, and no one would want to be addressed as such.
Our verse differentiates the character of a fool and the wise.
A foolish person jumps into a matter and speaks the way he wants without reasoning.
So as a wise, when you receive bad words from people, stay calm to know what and what not to say, wait for a convenient atmosphere to let out your mind, and be slow to speak.
For in doing so, your words will be full of wisdom and that which brings healing to the heart.
 James 1:20- Anger Add Nothing To Our Lives.
for the anger of man does not produce the righteousness of God

 James 1:20(ESV)
Man's anger is different from God's anger. This is because man, in his anger, can sin, but God can be angry and not sin, and man's anger does not produce the righteousness of God.
As humans, we see ourselves as angry when someone talks to us badly, but it should not be such that it will produce unrighteousness.
We should not allow the sun to go down while we are angry.
 Luke 6:27- Love Is A Necessity.
"But I say to you who hear, Love your enemies, do good to those who hate you

 Luke 6:27(ESV)
According to man, it makes no meaning working toward the good of someone that caused you pain.
But the Bible gave a contrasting view: to love your enemies, those who hurt you by words and to love them. It might not be easy, but it will be accessible when you ask the Holy Spirit to help you.
Matthew 5:44- We Need To Pray At All Times.
But I say to you, Love your enemies and pray for those who persecute you,

Matthew 5:44(ESV)
Jesus taught his disciples to love their enemies and to pray for their persecutors.
Are you a disciple of Jesus? If yes, then the instruction is still for you.
Love those who speak badly about you; love them by praying for them in sickness and health, and pray for their well-being, too, for by so doing, you show Christ-like character.
Matthew 5:16
 In the same way, let your light shine before others, so that[a] they may see your good works and give glory to your Father who is in heaven.

Matthew 5:16 (ESV)
We are the light of the world, and our verse urges us to let that light shine out to everyone around us.
How do we shine this light? We do so by loving, praying, and forgiving those that offend us. For in doing so, our Father in heaven will be glorified.
Scriptures About Talking Bad About Others
It is a common temptation to speak poorly of others, whether gossiping, spreading rumors, or talking negatively about someone behind their back.
However, this behavior is not in line with the teachings of Scripture and can cause harm to both the person being spoken about and the person doing the speaking.
It is important to remember that our words have the power to build up or tear down and to choose to speak kindly and respectfully about others, even when it may be difficult.
James 4:11
Don't speak evil against each other, dear brothers and sisters. If you criticize and judge each other, then you are criticizing and judging God's law. But your job is to obey the law, not to judge whether it applies to you.

James 4:11 NLT 
Our verse is a charge that, as a believer, you should not be found backbiting or slander against others.
You are expected to obey God's law and not judge others. For when you do, when you think and criticize others, you condemn God's law. It is God who should rule and blame, not us.
Titus 3:2 
to speak evil of no one, to avoid quarreling, to be gentle, and to show perfect courtesy toward all people.

Titus 3:2 ESV
It's never right as a Christian to curse or slander anyone. As Christians, we are urged not to pick up fights with
James 1:19
 My dear brothers and sisters, take note of this: Everyone should be quick to listen, slow to speak and slow to become angry,

James 1:19 NIV
Our verse presents three key things to note: "being slow to speak." This does not mean not being audible in speaking.
Before speaking, you should examine what you want to say so you will not hurt another with your words.
James 1:26
If anyone thinks he is religious and does not bridle his tongue but deceives his heart, this person's religion is worthless.

James 1:26 ESV
Every follower of Christ must learn to bring their tongue under control.
When one says he is a Christian and goes about slandering others, such a claim is worthless.
We deceive ourselves when engaging in such.
Ephesians 4:29-31
 Do not let any unwholesome talk come out of your mouths, but only what is helpful for building others up according to their needs, that it may benefit those who listen. And do not grieve the Holy Spirit of God, with whom you were sealed for the day of redemption. Get rid of all bitterness, rage and anger, brawling and slander, along with every form of malice.

Ephesians 4:29-31 NIV
Paul, in this verse, admonishes believers against the use of corrupt words; words that are cable of grieving the heart of others in pain.
Instead of speaking badly about others with unwholesome words and bitterness, he encourages believers to speak words that will be helpful to others and build them up, and also talk to them according to their needs for their benefit.
As a Christian, are you living out such a life, or do you still speak unwholesomely against others?
James 2:8
 If you really keep the royal law found in Scripture, "Love your neighbor as yourself," you are doing right.

James 2:8 NIV
Loving our neighbor as yourself is a "royal law," and if you live by it, our verse says you are right.
Therefore, if you are not living by it, you are definitely wrong and need to change.
What does it mean to love others like yourself? It is to treat them as you will do to yourself.
If you can love yourself and not speak ugly things to yourself, don't speak badly about others, and that's love.
Proverbs 17:9 
 Whoever covers an offense seeks love, but he who repeats a matter separates close friends.

Proverbs 17:9 ESV
Covering others' offenses means forgiving, forgetting, and not letting others know about their weakness and fault. This is how to show love according to our verse.
Speaking badly about others and continuously repeating others' wrongs can bring separation in the relationship.
Luke 6:37 
Judge not, and you will not be judged; condemn not, and you will not be condemned; forgive, and you will be forgiven;

Luke 6:37 ESV
We receive forgiveness when forgiving others of their wrongs; we gain freedom when we don't condemn and judge others.
Do you want to experience such? Then do not judge others nor speak badly about them. Forgive others; you will receive the same when you ask for it.
Ecclesiastes 7:21-22
 Do not take to heart all the things that people say, lest you hear your servant cursing you. Your heart knows that many times you yourself have cursed others.

Ecclesiastes 7:21-22 ESV
Not allowing other people's negative opinions about others to stay in your heart will prevent you from speaking badly about them, either in words or in your heart.
The Bible has given the guide to stay peaceable and to love others, only ask for help from the Holy Spirit, and he will help you.
Colossians 3:8 
But now you must put them all away: anger, wrath, malice, slander, and obscene talk from your mouth.

Colossians 3:8 ESV
Christians are charged to put away obscene talk from their mouth and the conversation that will destroy others. Malice and anger should be far from their heart because they will do them no good.
Conclusion
When faced with negative words or actions from others, it can be easy to become discouraged or feel defeated.
However, Scripture encourages us to persevere and trust in God, even when the world is against us.
We can find hope and strength in God's presence and faithfulness, even when others speak against us.
May we trust in His love and find comfort in His presence as we navigate difficult situations.
Was this article helpful?