A church building is a place where we all come together in one accord to reverence and worship God.
The church building is only seen as a place where we come together in oneness and where God dwells.
God dwells in our hearts and not the church. Where two or three are gathered, the presence of God is there, and it can easily be called a church even without the building.
Bible verses About The Church Building
The church building is sometimes necessary because it involves the coming together of different families to become one in christ, which is the primary duty of Christ on earth to make us dwell in love.
Matthew 16:18-We are the church
And I tell you, you are Peter, and on this rock I will build my church, and the gates of hell shall not prevail against it.

Matthew 16:18( ESV)
What we ought to understand about church building is that it is just a structure and nothing more. Where a church building is erected, it can easily be changed to any other building, be it a hotel or school.
This verse tries to explain that the building(structure) cannot be called a church, except people dwell there with the mindset of worshiping God.
As believers, we are the church; without us, the building is only seen as a structure.
1 Peter 2:5-God dwells in us
You yourselves like living stones are being built up as a spiritual house, to be a holy priesthood, to offer spiritual sacrifices acceptable to God through Jesus Christ.

1 Peter 2:5( ESV)
We should be aware that, according to the Old Testament Law, the people had to visit the temple so that the priests may speak on their behalf to God.
Peter now explains that we, God's children, are the church and the body of Christ and serve as priests.
Through Christ, all obstacles between God and us have been eliminated, and Christ has given us the confidence to approach the grace throne without fear.
Acts 20:28-Listening to God's instructions is vital
Pay careful attention to yourselves and to all the flock, in which the Holy Spirit has made you overseers, to care for the church of God, which he obtained with his own blood.

Acts 20:28( ESV)
Paul courageously spoke in public and many locations, testifying to Jews and Gentiles of the need for repentance towards God and trust in the Lord Jesus Christ.
No matter where Paul found himself, proclaiming the gospel was his main goal and concern.
Paul was very concerned about everyone's spiritual well-being as he carried out his ministry. He didn't consider the risk he put himself in while pursuing his goal.
Paul's message was not to bring pleasure to those who heard him preach but was meant to set those who have been afflicted with fake and false teachers. And to the false teachers themselves.
Haggai 2:9-In God's presence there's peace
The latter glory of this house shall be greater than the former, says the Lord of hosts. And in this place I will give peace, declares the Lord of hosts.'"

Haggai 2:9 ( ESV)
God takes an interest in the growth of the church and Christians generally. Worshippers in the church are also guaranteed peace for fellowshipping in the church.
God assures that the growth of the church will be progressive and also its stability.
After returning from exile, the Children of Isreal got God's assurance of a better tomorrow and a promised land that was promised to them in the days of their grandfathers.
Hebrews 10:25- Dwelling with others is an encouragement
Not neglecting to meet together, as is the habit of some, but encouraging one another, and all the more as you see the Day drawing near.

Hebrews 10:25( ESV)
Believers must dwell together in unity and harmony. A church shouldn't be seen as a structure but as an organized body with one mind.
Where two or three are gathered, the presence of God is seen there; it doesn't matter if there's a building.
As believers who want to achieve a specific goal, oneness is required; it is where two or more people agree that agreement can take place.
1 Corinthians 3:16 We are the temple of God
Don't you know that you yourselves are God's temple and that God's Spirit dwells in your midst?

1 Corinthians 3:16
This verse gives us an explicit knowledge of who we are in God; it explains that we are God's temple where the spirit of God dwells.
Jesus christ showed us another example using himself, "Destroy this temple, and I will raise it again in three days." they thought Jesus was referring to the temple that their fathers built, and they started grooming, not  knowing Jesus was referring to his own body
1 Corinthians 14:26- Christians need to build up one another
What then, brothers? When you come together, each one has a hymn, a lesson, a revelation, a tongue, or an interpretation. Let all things be done for building up.

1 Corinthians 14:26
Paul has gone out of his way to illustrate the benefits of fellowship and unity among Christians. To balance the spirit's gift, to do this. According to him, it is wrong to use the gift of language without simultaneously employing the gift of interpretation.
He has demonstrated why the gift of prophecy is much more valuable in church gatherings than in languages that cannot be translated.
Furthermore, Jesus has shown that love is far superior to all gifts that may be used in the church.
Haggai 1:8-God takes pleasure when we build His church
Go up to the hills and bring wood and build the house, that I may take pleasure in it and that I may be glorified, says the Lord.

Haggai 1:8 ( ESV)
However, even though most Christians believe that church buildings aren't that significant, it should be noted that the church's structure also plays an essential role in making believers come together.
The building often referred to as a church, has helped many believers establish love and care toward others.
God can easily dwell in the church(building), depending on our beliefs. Many Christians testified how they got their miracle by sleeping on the altar.
Mark 16:15- We have to preach the Gospel of Christ wherever we are
And he said to them, "Go into all the world and proclaim the gospel to the whole creation.

Mark 16:15 ( ESV)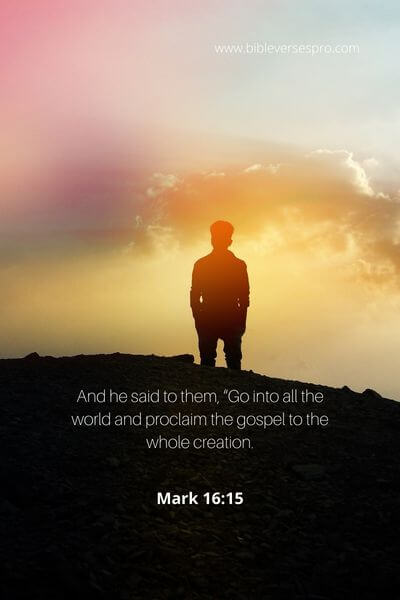 The church wasn't just meant to be a building but anywhere two or more people gather in God's name, according to Mathew 18:20
This verse also enlightens us on the fact the building of the church was not meant to be the only place we worship God, but we are told to go into the world and spread the good news of Christ.
Acts 5:42 -God's word isn't only preached in church
And every day, in the temple and from house to house, they did not cease teaching and preaching Jesus as the Christ.

Acts 5:42( ESV) 
This verse encourages those who find it difficult to pray or share the scripture in their homes or places of work; the word of Christ can be taught anywhere as far as it's about Christ.
The church building or structure shouldn't be seen as a central point of discussing or preaching the good news of christ, rather should be seen as one of the places where believers commune with one another.
Matthew 18:20
 For where two or three are gathered in my name,   there am I among them.

Matthew 18:20 (ESV)
We shouldn't always misquote this verse to be to the dwelling of christ any time two or more people gather, and it categorically tells us that in the gathering, there must be an indwelling of the Holy Spirit before.
God inhabits the praises of his people (Psalm 22:3) this, therefore, tells us that we must be those who are called by him, obeying and doing his commandment.
Jesus is omnipresent, existing in all places simultaneously; he doesn't dwell in just one area or structure(church). He lives in our hearts and is always present when we call on Him.
Acts 8:4
Now those who were scattered went about preaching the word.

Acts 8:4 (ESV)
This happened because the church in Jerusalem was under attack, one of the great preachers was murdered by some mobs, and all the people who dwelled in the temple were scattered about without a shepherd.
Even at the time, the temple in Jerusalem was no more conducive for them. They never stopped preaching; this explains that even without the building, we can still preach, teach and tell the world about Christ.
Psalm 127:1
A Song of Ascents. Of Solomon. Unless the Lord builds the house, those who build it labor in vain. Unless the Lord watches over the city, the watchman stays awake in vain.

Psalm 127:1(ESV)
This is to let believers, pastors, bishops, and all clergy know that the church building, which most of them claim they suffered and stressed themselves to install, was built by God and not them.
Those who relents from attending church services because of the church building should acknowledge the fact that church building is paramount. Still, it is the coming together in the oneness that matters.
2 Timothy 3:16-17
All Scripture is breathed out by God and profitable for teaching, for reproof, for correction, and for training in righteousness, that the man of God may be competent, equipped for every good work.

2 Timothy 3:16-17(ESV)
We are given access to the scripture(Bible) anywhere we find ourselves, even on our mobile phones. The word of God isn't static; it can be read anywhere we are and at any point in time.
The church building shouldn't be a central point of our reading, studying the scripture, or praying.
The word of God carries much content that can teach, guide, protect, and direct men to achieve specific goals, and it also helps men of God that they may be competent in delivering their work.
All these can be done anywhere you find yourselves, not necessarily in a church building.
Bible verses about church expansion
As believers, expanding the church of christ is necessary, and this involves us preaching God's word and telling the world about his faithfulness.
This section has a solid and powerful scripture that will help us improve in expanding the church of Christ.
Ephesians 4:11-12
And he gave the apostles, the prophets, the evangelists, the shepherds and teachers, to equip the saints for the work of ministry, for building up the body of Christ,

Ephesians 4:11-12( ESV)
"Just as a body, though one, has many parts, but all its many parts form one body, so it is with Christ" (1 Corinthians 12:12). Giving different responsibilities to different people doesn't mean they are different from the body of Christ, they are still heading to achieve one goal.
People have a variety of talents and callings that are still to edify the body of Christ. Therefore one man cannot manage all the ministries, even if he were to be in charge.
To grow the church in all its implications through Christ, all the above components must be practical and work together.
Acts 9:31
So the church throughout all Judea and Galilee and Samaria had peace and was being built up. And walking in the fear of the Lord and in the comfort of the Holy Spirit, it multiplied.

Acts 9:31 ( ESV)
In the pretext of this verse, Saul was seen as the main reason the church couldn't expand and multiply. This is seen as the persecution saul exercised against Christians.
When Saul's presence wasn't seen, the apostles had a little respite from persecution. Via these, believers started walking in the fear and comfort of the Lord, and they were multiplied.
Romans 16:17
I appeal to you, brothers, to watch out for those who cause divisions and create obstacles contrary to the doctrine that you have been taught; avoid them.

Romans 16:17( ESV)
Paul advises the church to be careful of false teachers, who come to give them teachings that aren't by the doctrine and commandments of God.
Since the church isn't about the building, we must also be careful of anyone who comes with a doctrine to derail us from the truth we have learned. This is a call for us to study gods word at all times.
1 Corinthians 3:11
For no one can lay a foundation other than that which is laid, which is Jesus Christ.

1 Corinthians 3:11 ( ESV)
christ is the head of every church, and he has the supreme power to lay or establish a foundation that can only be seen as the best. This verse has different thoughts about who paul was referring to.
Some see Paul's words as a warning about what may occur, perhaps especially if the Corinthians continue to place their loyalty on Christian leaders rather than on Christ Himself.
It is also clear that Paul references false teachers already present in Corinth, attempting to spread a false gospel and misinformation about Jesus.
Acts 12:5
So Peter was kept in prison, but earnest prayer for him was made to God by the church.

Acts 12:5 ( ESV)
Even when Peter was kept in prison, this never stopped the church from praying and interceding for him. Probably these prayers weren't done in the built temple because of the persecution that was going on at that time, yet they prayed.
These actions they did were part of expanding the church in different territories. This is to tell believers that prayer can be offered anywhere and at any time.
Conclusion
The church building has so many advantages which are beneficial to believers, including coming together, which triggers love for one another, and where we come to worship God.
But this shouldn't be seen as a barrier that we can't access the church building. We shouldn't worship God anywhere we find ourselves.
We are the church, and we can access God anywhere we find ourselves; we shouldn't be limited to the church building.
Was this article helpful?