In life, there are times when we find ourselves in tough situations. Sometimes they can be hard to handle and even seem like they are impossible to change. Don't let these tough times stop you from having hope or pulling through.
Here are 21 Bible verses for strength and courage in difficult times that will help our lives move forward!
Bible Verses for Strength and Courage in Difficult Times
Difficult times are coming whether we like it or not. What does the Bible say about those moments when we are faced with difficulty and struggle? Here are a set of 21 Bible verses for you to refer to as you face hard times.
Deuteronomy 31:6 – He is with us, even in challenging times.
"Be strong and courageous. Do not be afraid or terrified because of them, for the Lord your God goes with you; he will never leave you nor forsake you."

Deuteronomy 31:6 (NIV)
The good Lord God of Israel encouraged His children to be strong and courageous and not to be threatened by their enemies, that He would be with them no matter what challenges or difficulties.
God wants us to believe in His mighty hands which can deliver and set the captive free at any point we call on Him. Seeing the miracles God did in the land of Egypt, Moses encouraged them to trust and believe in God for he will never forsake nor leave them.
Joshua 1:6 – Be strong and courageous.
"Be strong and courageous, because you will lead these people to inherit the land I swore to their ancestors to give them."

Joshua 1:6 (NIV)
Here God encouraged Joshua to be strong and courageous, believing in himself, because He the Lord will use him to inherit the promised land.
Joshua 1:9 – He will be with us always.
"Have I not commanded you? Be strong and courageous. Do not be afraid; do not be discouraged, for the Lord your God will be with you wherever you go."

Joshua 1:9 (NIV)
God is really telling Joshua not to be afraid of the enemy, no matter how big and mighty they may be. He should not also be discouraged about how the behavior of the children of Israel may be during the journey.
God promised Joshua never to leave him to be destroyed by his enemy, He promised to always go before him to make his journey straight and easy.
1 Corinthians 16:13 – Have faith in God and be guarded by His word.
"Be on your guard; stand firm in the faith; be courageous; be strong."

1 Corinthians 16:13 (NIV)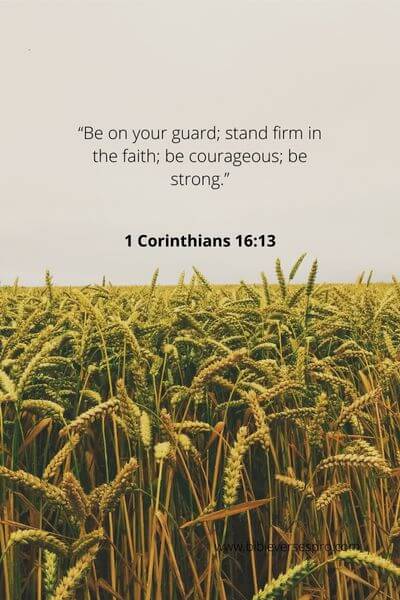 Paul here wants us to act like men, to show forth our strength and be strong. He wants us to have faith in God and be guarded by His word.
Paul also encourages us to be on guard for there are deceitful workers with false teachings, false apostles, and demonic doctrines everywhere.
1 Chronicles 28:20 – Strength.
"David also said to Solomon his son, "Be strong and courageous, and do the work. Do not be afraid or discouraged, for the Lord God, my God, is with you. He will not fail you or forsake you until all the work for the service of the temple of the Lord is finished." "

1 Chronicles 28:20 (NIV)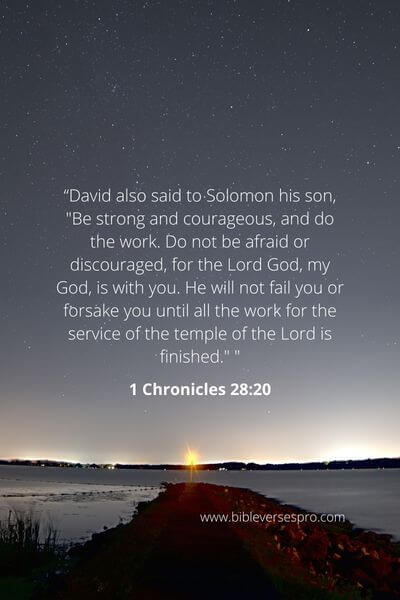 David seeing all the promises God made to him come to fulfillment, encouraged his son Solomon to be strong and of good courage and to do the work without fear of the evil one that the Lord didn't forsake him in time of distress won't disappoint him.
Psalm 31:24 – He will never fail to keep his promises.
"Be strong and take heart, all you who hope in the Lord."

Psalm 31:24 (NIV)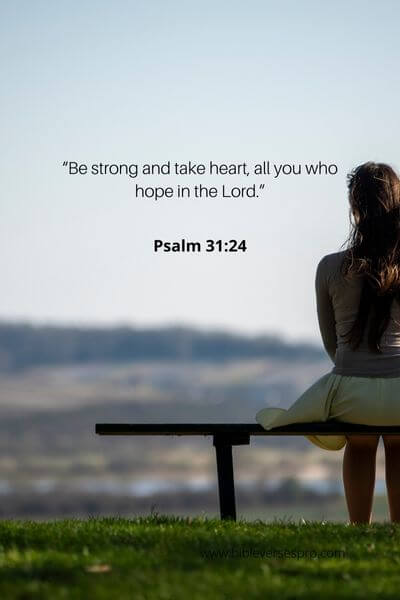 David encourages those who put their faith in the Lord. David understands that God is a loving and faithful father who will never fail to keep his promises.
Those who have hope in God will never be disappointed, so no matter what circumstances you face in life, be strong in the knowledge that you have God.
 Isaiah 41:10 – Fear gives our enemy the upper hand.
"So do not fear, for I am with you; do not be dismayed, for I am your God. I will strengthen you and help you; I will uphold you with my righteous right hand."

Isaiah 41:10 (NIV)
Fear gives our enemy the upper hand to prevail over us knowing too well that our faith in God is diminished, as God's children this is not right, we should always have faith in God that he is always with us always.
God wants us to understand that in the midst of our difficulties, He is always with us, He will strengthen us and hold us in his mighty hands.
2 Timothy 1:7 – Be wise as a serpent and smart like an eagle.
"For God has not given us a spirit of fear and timidity, but of power, love, and self-discipline."

2 Timothy 1:7 (NIV)
God has not given us a dull spirit, God wants us to be bold and smart, so many Christians think it's about being dull that makes us righteous. Here we are instructed never to be timid rather we should be smart, and active and love one another. 
God gives His children the spirit of sound mind, power and the spirit of love, and the ability to discipline themselves. But in all this God doesn't want us to be in spirit or be timid in whatever way, that's why He told us to be wise as a serpent and smart like an eagle.
Numbers 13:20 – We must always be courageous.
"And whether the land is rich or poor, and whether there are trees in it or not, be of good courage and bring some of the fruit of the land. Now the time was the season of the first ripe grapes."

Numbers 13:20 (NIV)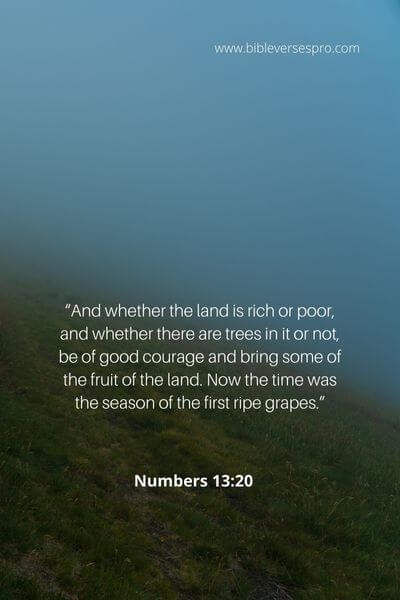 Whatever life circumstances you find yourself in, whether good or bad, whether there is food or not. We must always be courageous; it is our courage that will melt your life's impossible situation.
1 John 4:18 – God is love.
"There is no fear in love. But perfect love drives out fear, because fear has to do with punishment. The one who fears is not made perfect in love."

1 John 4:18 (NIV)
God is love, and anyone who loves is of God. This is how we know we are of God, when we're in God we have no fear because God lives in us.
The perfect love of God overwhelms every negative activity of our life that might enact fear in us. Because fear and guilty can't coexist with faith love and hope.
2 Samuel 10:12
Be strong,and let us fight bravely for our people and the cities of our God. The Lord will do what is good in His sight.

2 Samuel 10:12 (NIV)
Joab here was in a very hard and difficult serious which it was only a miracle he needed as at that time, in human nature, there's nothing we would have done because the numbers of the army against him were so much, but Joab had to show courage to encourage the city looking up to him. Leaving everything to God to do as it pleases the Lord.
Chronicles 15:7
"But you, take courage! Do not let your hands be weak, for your work shall be rewarded."

2 Chronicles 15:7 (NIV)
In our daily activities, we have to be positive knowing too well that there's nothing hard for our God to do, though it may tarry it will surely come to manifestation.
We should always know that our long waiting days with God can never be in vain we will always be rewarded despite the challenge that we may face during the process, and God will always see us through.
 Psalm 27:14
"Wait for the Lord; be strong, and let your heart take courage; wait for the Lord!"

Psalm 27:14 (NIV)
God is always our source of everything, having hope in God is the best decision anyone can make because he never disappoints. We just have to wait on him, for when the time is right He will make it happen.
As Christians we should always show courage and strength in the Lord in any situation we find ourselves, our prayers may delay, but definitely, our prayers will come to fulfillment.
Ezra 7:28
"And who extended to me his steadfast love before the king and his counselors, and before all the king's mighty officers. I took courage, for the hand of the Lord my God was on me, and I gathered leading men from Israel to go up with me."

Ezra 7:28 (NIV)
Ezra showed courage in the most difficult situation when it seemed as if it wasn't going to be a way out, Ezra was fervent in prayer and had so much faith in God that his prayers will be answered, he never gave up despite the situation he found himself he showed courage and fervency in prayer.
1 Chronicles 16:11 
Look to the Lord and his strength; seek his face always.

1 Chronicles 16:11 (NIV)
God is the only one who gives strength, peace, and hopes to the weak because we cannot succeed with our own strength unless God strengthens us.
We are to seek His face and obey His commandments so that He may guide and protect us from the evil one.
Psalm 68:35 
You, God, are awesome in your sanctuary; the God of Israel gives power and strength to his people. Praise be to God!
Exodus 15:2
The Lord is my strength and my defense; he has become my salvation. He is my God, and I will praise him, my father's God, and I will exalt him.

Exodus 15:2 (NIV)
God in His infinite Mercy had given us everything good which concerns life and godliness, He is the God who gives us strength in our weakness, He is our defense.
God's plan to His children is all of a good one. All we need do is just to praise and worship him for His goodness and mercy towards our life.
Habakkuk 3:19
The Sovereign Lord is my strength; he makes my feet like the feet of a deer, he enables me to tread on the heights.

Habakkuk 3:19 (NIV)
Owing to some important facts about deers, deers illustrated in this passage signifies it's ability live for years.
God have given us so much strength that what ever we tread upon will have no effect on us or harm us in anyway. This also tells us that God gives us life to any extent of which he want, we are meant to live long and not die via His strength He has given to us.
Matthew 14:27
"But Jesus immediately said to them: 'Take courage! It is I. Don't be afraid.'

Matthew 14:27 (NIV)
Considering the instances of the Messiah's miracle recorded in the scripture, the disciples doubted it was He, Jesus, sighted afar from the boat in the sea.
They wondered how Jesus walked on the water, owing to the natural phenomenon that water doesn't have weight or surface for an object to be placed on.
Jesus' response to the disciples was to outright their disbelief and be courageous, if Peter was courageous to have walked down to Jesus boldly, he wouldn't have been sinking. Here, Jesus implored Faith as the only conviction to achieving one's desire.
https://www.youtube.com/watch?v=B2kwveYJP-Q
Prayer for strength during difficult times
Dear God,
I am here today to ask for your strength to get through this difficult time.
I am asking you to give me the courage and determination to face the challenges that lie ahead in my life.
I know that it will not be easy, but I also know that with God's help I can rise above any obstacles that may arise.
Help me to be patient with myself and others who are close to me during this period of transition. Help me to find ways of coping with these changes in my life.
I will always remember that Jesus is my hope and strength, and He will never leave me or forsake me. He is always there with me when I need Him most.
In Jesus' name, Amen
Short Prayer for Strength During Difficult Times
Dear God,
I know the world can be hard sometimes. The people in my life can be hard too. But I have faith that You are with me and that You will help me through this time.
Please give me the strength to not give up on myself or others because of this situation. Even if we aren't happy with what is happening, please help us to find ways to make things better. In Jesus' name, Amen
Was this article helpful?