Here is a collection of 21 Jesus is coming soon Bible verse with explanations. We know that it is difficult to understand these verses and how they are relevant in our lives. That's why we have tried to provide you with some explanations and examples so that you can make sense of these verses,
Jesus is coming soon. Bible Verse
On Jesus is coming soon Bible verse with explanations. Of course, the best way to understand the Bible is to read it with friends, study guides, and commentaries. But it takes time and devotion.
Revelations 22:22 – The Final Day of Redemption is Here
He who testifies to these things says, "Surely I am coming soon." Amen. Come, Lord Jesus!

~ Revelations 22:22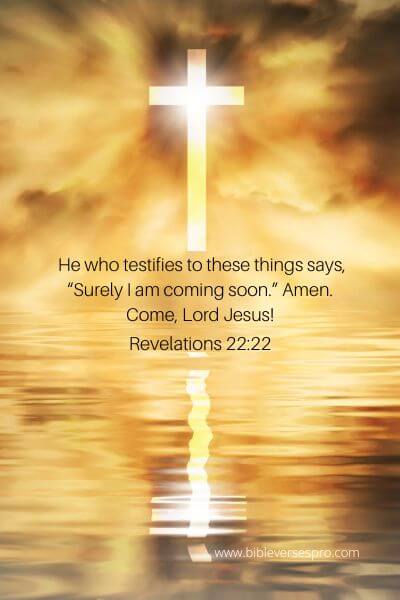 Heaven will be a place where God's people can work and serve.
It will be a location where God's people will be able to see His face, a place where they will be able to have personal, face-to-face communion with Him.
This would be possible because Jesus is coming soon.
God saves sinners, provides for all their necessities, allows them to serve Him, and keeps them until the final day of redemption entirely by the grace of our Lord Jesus.
Revelations 2:16 – Repent for Jesus is Coming Soon.
Therefore repent. If not, I will come to you soon and war against them with the sword of my mouth.

~ Revelations 2:16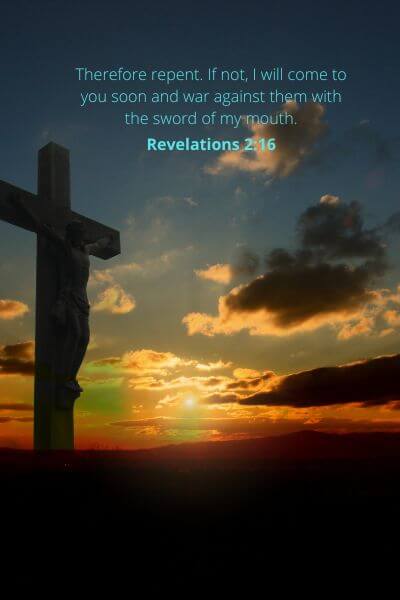 Jesus encourages the Church to repent for the defects they have displayed, mainly by serving other gods, because failing to repent will result in judgment.
Jesus is coming soon to the Church, and he will battle the unrepentant members. He will judge them with the sword of His mouth, the Word of God.
2 Peter 3:9 – He is waiting for you to repent.
The Lord is not slow to fulfill his promise as some count slowness, but is patient toward you, not wishing that any should perish, but that all should reach repentance.

~ 2 Peter 3:9
People have been preaching that Jesus is coming soon for many centuries.
In verse 8, we are reminded that the Lord is not confined by the passage of time. A thousand years is like a day to God, and vice versa.
God's promises never fail. He is coming soon. He is not sluggish in keeping His word.
All we have as our task is to be ready for his arrival. Christians should see the delay in Christ's coming as proof of God's patience.
Hebrews 1:2 – Jesus desires to save all.
But in these last days he has spoken to us by his Son, whom he appointed the heir of all things, through whom also he created the world.

~ Hebrews 1:2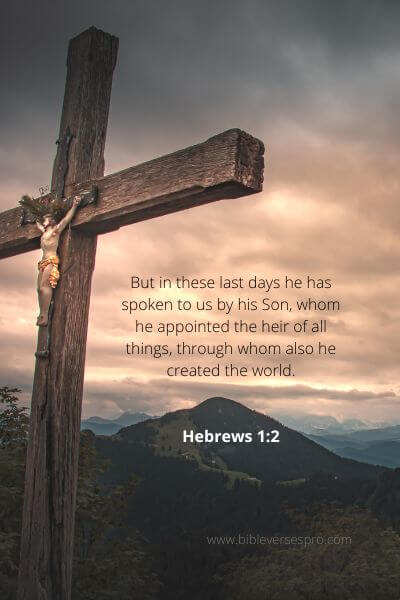 God is ready to grant more time for more individuals to repentance because of His love-driven patience.
God aims to provide more people the opportunity to put their faith in Christ and enter into an eternal relationship with Him.
God's judgment on the Day of the Lord will result in eternal death during his second coming. Jesus is coming soon.
God chose not to demand or even force all people to be rescued in His sovereignty and authority. He desires for all of them to be saved, but He will not compel them to be saved.
This is one of the reasons God gives us additional time to prepare because Jesus is coming soon.
Luke 12:38
If he comes in the second watch, or in the third, and finds them awake, blessed are those servants!

~Luke 12:38
God wants us to be prepared for His return at any moment, and as servants, we have no way of knowing when that will be all we know is that Jesus is coming soon.
He will arrive when He is ready, and we must be prepared to receive Him whenever possible, Just as the virgins waited for the bridegroom in Matthew 25:1-13.
Those who are alert and cautious in their tasks, on the other hand, will be blessed.
Hebrews 10:24-25 – What to do
And let us consider how we may spur one another on toward love and good deeds, not giving up meeting together, as some are in the habit of doing, but encouraging one another and all the more as you see the Day approaching.

~  Hebrews 10:24-25
In Christ Jesus, believers are taught and encouraged to live fearlessly, bravely, and gloriously because Jesus is coming soon.
When confronted with challenging situations that cause us dread or uncertainty, it is time to take command of the situation by exercising imaginative faith.
It is our responsibility to give words of encouragement to those who are struggling, not just urging them to believe but also inspiring them to act out in love and good acts.
This would help them live well and keep their home in order while believing that Jesus is coming soon.
Matthew 24:42 – Watch and Pray
Watch therefore: for ye know not what hour your Lord doth come.

~Matthew 24:42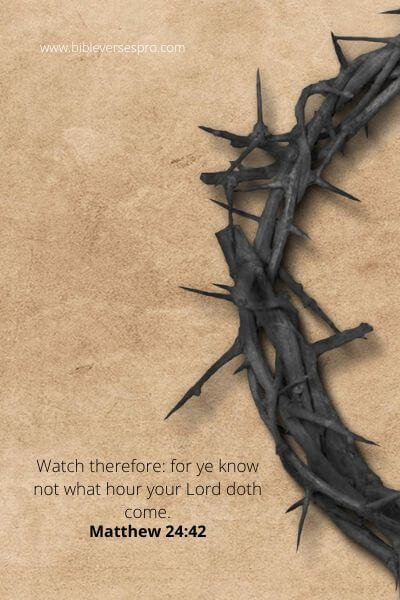 To keep an eye out for Christ's return, we must preserve the mental attitude that we would want Christ to find us in since Jesus is coming soon.
It's hard to say whether the Last Judgment will take place in adequate time.
Our Savior will only come to those who have prepared themselves. He will appear unexpectedly, and those who have not prepared will suffer much due to this meeting.
John 16:4–5 – Be warned, Jesus is coming soon.
I have told you this, so that when their time comes you will remember that I warned you about them. I did not tell you this from the beginning because I was with with you, but now I am going to him who sent me. None of you asks me, `where are you going?

~ John 16:4–5
Jesus predicted his resurrection and returned to the Father when he was with us.
However, during his second coming, Jesus is coming soon to take those who believed in him back to Heaven.
As believers, we are given instructions on how life can feel fulfilling if we know what actions will make us most happy.
These commands are geared toward helping Christians experience greater peace within themselves so they may have their soul washed after giving their lives to Christ (being born again from an earthly body into a spiritual body).
Hebrews 9:28 – Salvation to all men.
So Christ was sacrificed once to take away the sins of many; and he will appear a second time, not to bear sin, but to bring salvation to those who are waiting for him.

~ Hebrews 9:28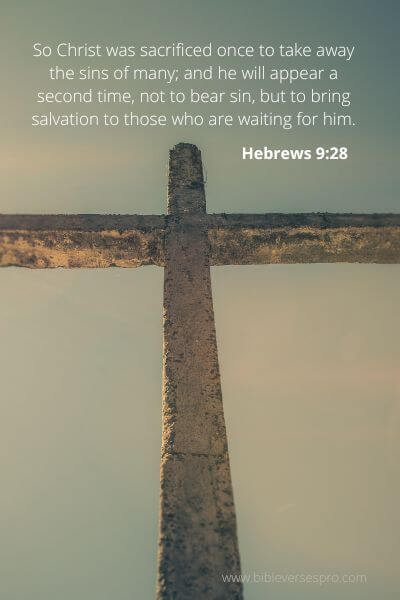 We then must stay firm in our confession of hope for salvation and remain faithful with confident hope by looking after all those who belong to Christ. 
This day will come when men will be safe, with no expectation of the Lord's coming.
The desirable things in which worldly-minded men seek and place their happiness will be burned up; all creatures God has created and all human works.
Believers who are saved will sing of God's grace, which has rescued them, supported them through every adversity, supplied for all of their needs, and ensured their safe passage to Heaven and the opportunity to see our Savior face to face.
Matthew 24:36 – No one knows the time
However, no one knows the day or hour when these things will happen, not even the angels in heaven or the Son himself. Only the Father knows.

~ Matthew 24:36
In this text, Jesus warns us that we will be trapped in Hell for eternity if we are not ready for His Second Coming.
What matters is that you are prepared for the day Jesus returns to judge the world.
Jesus responded to their inquiries regarding the timing of the judgment, the signs that would indicate His return, and the end of human history.
Jesus has warned us to be ready for His return.
Jesus has warned us to be ready for His return. In Matthew 24:36, Jesus said, "But of that day and hour no one knows, not even the angels of heaven, but my Father only." This warning is meant to emphasize that everyone will get to witness Him—but no one will know when strictly that day will come.
Matthew 24:37-44
In Matthew 24:37-44, Jesus tells two parables about a  man whose impending death caught him off guard because he wasn't prepared.
This man didn't have enough time to prepare for his death. Thus he was unprepared for life after death.
The same thing might happen if we don't spiritually prepare ourselves by reading the Bible consistently, praying frequently, and diligently serving God.
John 14:3
In John 14:3, Jesus warns us to be on the lookout because He is coming soon!
Jesus had just told His disciples that He was going away – but that He was going to prepare a special place for them in His Father's house.
Jesus not only sought to give them every reassurance that His departure would be for the best.
Christ knew that He was shortly to die on the cross to pay the price for their sins and that He was the one and only mediator between God and mankind – for no one comes to the Father except through Him.
Christ is preparing a heavenly home for all that are His, and one day soon, He is coming back again to welcome us into His presence so that where He is – we may also be.
1 Thessalonians 5:2
We must be prepared at all times since we have no way of knowing when He will return

~ 1 Thessalonians 5:2
It may come as a surprise, but the timing of Jesus' Return or Second Coming is unknown to angels, ordinary humans, or even Jesus himself, as he tells his disciples.
Jesus is coming soon, and when he returns, many will be taken away in judgment, but others will be left behind. Recall what happened in the time of Noah.
Christians are well aware of the Lord's approaching day, which was to be a period of tremendous tribulation for Israel when God's wrath would be poured out on a wicked world that rejected Christ.
We must be watchful and waiting for Christ's imminent return, knowing that this awful period of tribulation will engulf an unbelieving world wandering in darkness.
Revelation 22:20
He who testifies to these things says, "Yes, I am coming soon."
Amen. Come, Lord Jesus.

~ Revelation 22:20 
Jesus is on His way and has promised us that He will return soon.
For His redeemed people, God has promised to build a new heaven and a new earth, as well as to testify that He will return to finish the job.
Jesus is coming soon without warning, both at the Rapture when He returns in the air for the Church and at His return to earth at the end of the Tribulation when He returns as King of kings to establish His Millennial kingdom.
We must be kept in joyful expectation of Christ's glory, and those who partake of his grace will rejoice at his glorious appearance.
Repent Jesus is coming soon Bible verse
Repent is not just something you have to say once and then never during your life. Instead, godly repentance means you take a second look at your actions and manner of living each day to make necessary changes.
Acts 17:31
Because he has fixed a day on which he will judge the world in righteousness by a man whom he has appointed; and of this he has given assurance to all by raising him from the dead.

~Acts 17:31
An idol cannot represent God. He warns his people that if they continue to worship idols, they will be judged by God's resurrected representative.
He addressed sinners who worshipped false gods and were without the true God in the world that they should repent and seek the right way.
Jesus' second coming will be the day when He comes for His people, to gather them out of this sorry, broken world once and for all.
Luke 9:26
For whoever is ashamed of me and of my words, of him will the Son of Man be ashamed when he comes in his glory and the glory of the Father and of the holy angels.

~Luke 9:26
Being ashamed of Jesus is being afraid of embarrassment, humiliation, ridicule, or condemnation if you identify as a follower of Jesus.
It brings unspeakable consolation to know that our Lord Jesus is God's Anointed; this means that he was both designated and qualified to be the Messiah.
Jesus speaks about his trials and tribulations, as well as his death. And his disciples must be so far removed from thinking about how to avoid his sorrows that they must prepare for their own.
Acts 3:19
Repent, then, and turn to God, so that your sins may be wiped out, that times of refreshing may come from the Lord.

~Acts 3:19
The absolute requirement of repentance is to be solemnly committed upon the consciences of everyone who seek to have their sins forgiven and to experience the refreshing that only a feeling of Christ's pardoning love can provide.
Those who have experienced this are fortunate.
The Holy Spirit did not need to reveal the times and seasons of these dispensations.
When sinners are convinced of their misdeeds, they should cry out to the  Lord for forgiveness, and times of refreshment will come from the presence of the Lord for the repentant, converted, and believing.
Repent and return to their Father's God,  believing in  Jesus as their promised Messiah, so their sins would be forgiven.
Be ready Jesus is coming soon Bible verse
Philippians 3:20
For our citizenship is in heaven, from which also we eagerly wait for a Savior, the Lord Jesus Christ

~Philippians 3:20
Christians should develop a strong desire to become more like Christ. People who have paradise in view must yet press ahead to it.
Eternal life is a gift from God, but it is received through Christ Jesus is what makes the difference.
We should be ready for his second coming because Jesus is coming soon.
John 14:3
If I go and prepare a place for you, I will come again and receive you to Myself, that where I am, there you may be also.

~John 14:3
Christ was well aware that He would soon be crucified to pay the penalty for their sins and that He was the only mediator between God and mankind, for no one can approach the Father except through Him.
The condition for Christ's departure was that He would also return.
Allow your heart to be kept safe in God's hands.
The word your comes to mind. Others may be overwhelmed by the sorrows of the present, but you are not. When everything else is noisy, Christ's disciples, more than anyone else, should keep their minds quiet.
Matthew 25:31
But when the Son of Man comes in His glory, and all the angels with Him, then He will sit on His glorious throne.

~Matthew 25:31
This scripture describes Jesus' apocalyptic judgment, which will occur when He returns as King with His angels and ascends to the throne.
He'll divide those who are being judged into two categories: "sheep" and "goats."
The sheep will be greeted warmly and praised for their selfless service to those in need. The goats will be cast out of Jesus' presence and condemned to eternal fire for failing to help those in need.
Revelation 22:12
Look, I am coming soon! My reward is with me, and I will give to each person according to what they have done.

~Revelation 22:12
The angel spoke on behalf of the Lord Jesus, solemnly confirming all that was being said in Revelations.
Christ will come quickly and remove all doubt.
Everyone is called to bear witness to the declarations made here.
The book of life, kept open in this manner, will affect men; the filthy and unjust will be exposed.
Philippians 1:6
Being confident of this, that he who began a good work in you will carry it on to completion until the day of Christ Jesus.

~Philippians 1:6
Every man and woman born of the Spirit is being conformed to the lovely Lord Jesus' image.
The process of sanctification begins at rebirth when we are born of the Spirit through faith in Jesus Christ.
When Jesus will come Bible verse
1 Thessalonians 1:10
And to wait for His Son from heaven, whom He raised from the dead, that is Jesus, who rescues us from the wrath to come.
Believers in the Old Testament awaited the Messiah's arrival, and believers today await his second arrival.
He hasn't arrived yet. And God had raised him from the dead, giving all men complete assurance that he would come to judgment.
Philippians 4:5
Let your gentle spirit be known to all men. The Lord is near.

~Philippians 4:5
Christians in Thessalonica had turned away from idols and toward God.
They worked not only to serve the living and true God, but also to "wait for his Son to come down from heaven."
Like us, these Christians in Thessalonica knew that the day would come when Christ would return in the clouds, taking them to be with Him forever.
The Thessalonians knew He had promised to return and were looking forward to it patiently.
Jesus admonished His followers not to be troubled. He described Heaven as His Father's house, complete with many rooms, and assured them that He would prepare a place for them there.
Matthew 24:42
Therefore be on the alert, for you do not know which day your Lord is coming.

~Matthew 24:42
The return of Christ will be unexpected. The warning signs will be obvious, but only when it is too late to react.
Christ made it clear that no one can predict the exact time of His return.
Every second coming prediction that includes a date is based on false premises.
That leaves only one option for those who want to be prepared: "stay awake" all the time.
Of course, Jesus is not speaking literally when he says that sleep should be avoided. Instead, He advises them to live in a state of consciousness.
Believers should never fall into the trap of thinking that what happens in this life daily is irrelevant.
Was this article helpful?