Life begins when an individual has stopped living based on his validation, dictates, opinions, concepts, and ideologies but by the guidance of the Lord.
When man realizes that he is fleeting and transient without acknowledging God, that is when his life begins.
A man's journey of self-discovery in the body of Christ is when he has already started to live his life to the fullest.
Bible Verses On When Life Begins
God knew the man before he was born. Therefore, man is nothing without accepting God as his Creator.
This blog article will cover all the Bible Verses about when Life begins;
JEREMIAH 1:5 – Christians Are The Lord's Possession.
Before I formed you in the womb I knew you, And before you were born I consecrated you, I have appointed you as a prophet to the nations.

Jeremiah 1:5 (NASB)
This text speaks about God's awareness of how and when each of us would come into being.
Christians are the Lord's possession, the apple of His eye. God speaks our names, knits us together in our mothers' wombs, and declares, "I knew you before you were born."
GENESIS 2:7 – God Was Deliberate, Creating Exactly What He Wanted.
Then the LORD God for the man from the dust of the ground. He breathed the breath of life into the man's nostrils, and the man became a living person.

Genesis 2:7 (NLT)
According to the plot of this poetry, after being "made," man was little more than a lump of well-shaped dirt. What God did next brought us to life: He breathed the breath of life into the man's nose.
God breathed life into the lump, converting it into a living entity, also known as a "creature" or "soul." God was deliberate, creating exactly what He set out to create.
ISAIAH 44:2 – He Will Deliver Us.
Thus says the LORD who made you, who formed you from the womb and will help you: Fear not, O Jacob my servant, Jeshurun whom I have chosen.

Isaiah 44:2 (ESV)
God is telling the Jewish people in this verse that He will be with them in their most difficult times, supporting them through them, giving them the power to overcome them, and delivering them safely out of danger.
ISAIAH 49:1 – God's Infinite Power.
Listen to me, all you in distant lands pay attention, you who are far away The LORD called me before my birth from within the womb he called me by name.

Isaiah 49:1 (NLT)
Previously, the theme of the prophecy was mostly limited to the rescue from Babylonian captivity, with strong hints of a more significant deliverance occasionally tossed in, to the refutation of idolatry, and the evidence of God's infinite power, wisdom, and foreknowledge.
The Messiah's nature and position were demonstrated in broad strokes.
LUKE 1:44
For behold, when the sound of your greeting reached my ears, the baby in my womb leapt for joy.

Luke 1:44 (AMP)
When he hears Mary's voice, the unborn John reacts. Mary reacts by lavishing God with praise. She tells Mary about John's reaction to Jesus' appearance.
She will continue to praise Mary for her faithful reaction to this news, which Elizabeth's husband, Zechariah, initially questioned, whereas Mary responded in modest faith.
PSALM 139:13
For you formed my inward parts; you knitted me together in my mother's womb.

Psalm 139:13 (ESV)
God is credited in the Bible with making children long before they are physically born, and David thanks God for creating his inner self before birth.
In this part, he connects omnipotence to how God created the writer in his mother's womb.
As a result, we are not the result of chance or nature but of God's infinite creation.
JOB 33:4
The Spirit of God has made me; the breath of the Almighty gives me life.

~ Job 33:4 (NIV)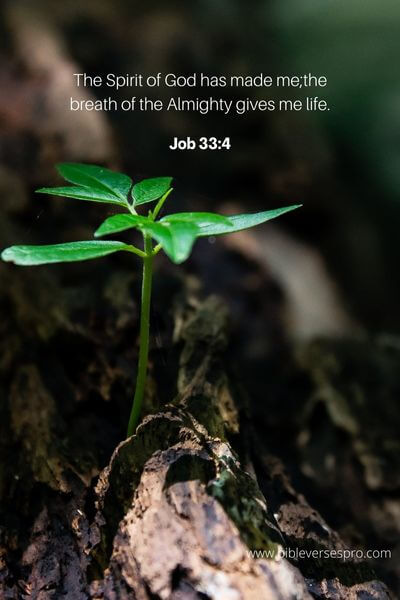 As man, every man is made by God, not by himself; his Makers or Creators are the Father, Son, and Spirit.
The Spirit of God remakes humanity, or creates them new men, new creations; this is done in regeneration, which is the work of the Holy Spirit; so regeneration and renewing of the Holy Ghost are combined, and being a work of almighty power, is proof of the Godhead of the Spirit of God.
EXODUS 21:22
"Now suppose two men are fighting, and in the process, they accidentally strike a pregnant woman so she gives birth prematurely. If no further injury results, the man who struck the woman must pay the amount of compensation the woman's husband demands and the judges approve.

~ Exodus 21:22 (NLT)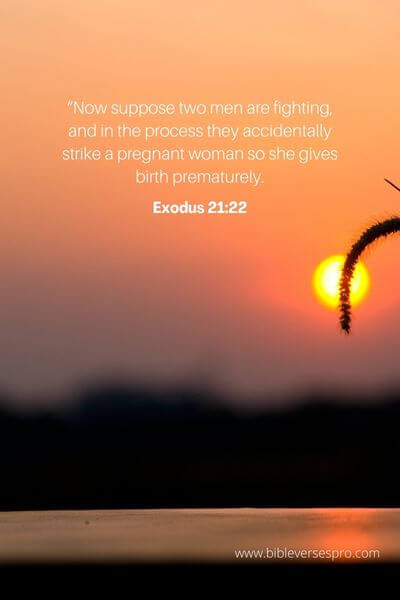 Quarrel and battle with one another, as Ezra remarks, which is to be understood by Hebrews.
The husband could propose what fine should be paid and ask it in court; and if the smite agreed, fine; but if he thought it was an absurd demand, he could appeal to the judges; for the husband could not lay whatever fine he pleased: this, if disputed, was to be decided by the judges, and as they determined it, it was paid.
PSALM 127:3
Children are indeed a heritage from the LORD, and the fruit of the womb is His reward.

~ Psalm 127:3 (BSB)
Children should be regarded as blessings rather than responsibilities. The unborn child is a gift from the Lord, not just undesired tissue to be discarded.
It is not just vital to rely on the Lord in our jobs or chores; it is essential as we raise our families and children. Children are God's blessings.
JOB 31:15
Did not he that made me in the womb make him? and did not one fashion us in the womb?

~ Job 31:15 (KJV)
Job's rationale is that because he and his servants were both the workmanship of God, both formed in the womb by him, curiously fashioned alike, and possessed of the same cognitive powers; it would be absurd for him to mistreat his fellow beings.
PSALM 139:16
Your eyes saw my substance, being yet unformed. And in Your book they all were written, The days fashioned for me When as yet there were none of them.

~ Psalm 139:16 (NKJV)
With His absolute omniscience, God knows everything about our lives in advance, according to this Scripture.
The Lord saw David's prenatal state and planned David's life.
In this part, he connects omnipotence to how God created the writer in his mother's womb.
GALATIANS 1:15
But when He who had set me apart even from my mother's womb and called me through His grace was pleased

~ Galatians 1:15 (NASB)
Paul used his tale to demonstrate to his Galatian readers that what he told them about Christ came directly from Christ.
He has spoken about his time as a Pharisee in Judaism. God, according to Paul, called him by His grace.
Paul realized that, just as no one "earns" their position before God, he had not "earned" the duty of apostle. By God's grace, Paul could represent Christ to the Galatians and everyone else.
ISAIAH 44:24
Israel, I am your LORD, the source of your life, and I have rescued you. I created everything from the sky above to the earth below.

~ Isaiah 44:24 (CEV)
This is not a new prophesy entirely unrelated to the previous, as Delitzsch believes, but rather a declaration that the prophet has been working on and expects to be the crown and conclusion of everything he has been declaring concerning Israel's salvation.
Not only is deliverance sure in God's counsels, but the Deliverer has already been chosen and named.
GENESIS 9:6
"Whoever sheds human blood, by humans shall their blood be shed; for in the image of God has God made mankind.

~ Genesis 9:6 (NIV)
God proclaimed in the previous verse that, from this moment forward in the post-flood world, He would demand an account or reckoning whenever man or beast took a human life.
According to this passage, the person or animal that killed another person was to be slain.
The rainbow is then offered as a sign of God's unilateral pledge to never again end all life on Earth with a flood.
LUKE 1:41
At the sound of Mary's greeting, Elizabeth's child leapt within her, and Elizabeth was filled with the Holy Spirit.

~ Luke 1:41 (NLT)
Mary's appearance creates an immediate reaction. Her speech dramatically moves the unborn baby in Elizabeth's womb, and Elizabeth is filled with the Holy Spirit simultaneously.
These reactions highlight the remarkable nature of both pregnancies. Mary reacts by extolling God and referring to Him as her "Savior."
Mary comes home after remaining for a while—possibly until the birth of John.
CONCLUSION
Now man is aware that he is the blueprint of God and that his actions on Earth should be aligned with the purpose of God.
I would love to know what you feel should be done to align your existence with God further.
Was this article helpful?