With over 30 Powerful Bible Verses about Prayer and Faith, answers to question like What is the most powerful prayer in the Bible?, What does Jesus say about praying?, What is the highest form of prayer? and many more, This article guides you with the knowledge of prayers through the Holy Spirit
What does The Bible Says about Prayers?
It may not be easy to define prayer by a single word or sentence. This is obvious as a result of wide range of things and purposes prayer can accomplish.
Prayer is the spiritual exercise that gives "human" direct access to the supernaturally power of God. Anyone who can gain access to the supernatural power of God will certainly do far more than what the ordinary man can do. There is no gainsaying, he shall be a man of great power, great accomplishment and great honor.
"If you abide in me and my words abide in you, you shall ask what you will and it shall be done unto you" John 15:7.
Again, prayer is one of the avenues through which grace flows from God to man. As a Christian, it is very necessary to establish and maintain an effective prayer link with God.
"Abide in me, and I in you. As the branch can not bear fruit of itself, except it abide in the vine, no more can ye except ye abide in me" John 15:4.
Show me a great believer and I will show a man who is constantly entuned with God prayer.
Importance of Prayers with Faith
Every child of God must consciously develop the habit of discussing everything about himself/herself with the Lord. And prayer is the only platform for that discussion.
This is the best way to guarantee quality and successful life both physical and spiritual.
Obviously, this article is not centered on prayer. However, the importance of prayer to successful Christian living cannot be over emphasized and believing with faith is the only acceptable currency in every fruitful prayer transaction. It is imperative therefore to talk about prayer here.
During Christ's ministry on earth, He always probed the heart of the people with words like: Do you believe? If you believe and so on.
Total belief is important on the part of the praying believer if he must have what he says. The following scriptures would clearly surface in this case.
For verily I say unto you, that whosoever shall say unto this mountain, be thou removed and be thou cast into the sea and shall not doubt in his heart but shall believe that those things which he saith shall come to pass, he shall have whatsoever he saith.
Therefore I say unto you, what things ever ye desire, when you pray, believe that ye receive them and you shall have them. Mark 10:23-24.
And these signs shall follow them that believe, in my name shall they cast out devils. They shall speak with new tongues they shall take up serpent, and if they drink any deadly thing, it shall not hurt them, they shall lay hands on the sick and they shall recover.
Those who believe have the rare privilege of commanding the supernatural power of God
This can only be exercised through prayer Additionally, they equally attract the same power for their personal protection and so on all around them.
It is amazing to realize the enormous benefits accorded to a Christian for simply believing God completely. The unbeliever has no such powers. Neither does a religious church goer that has refused to give his heart to God. The scripture says; You will seek God and find Him when you seek Him with all your heart. This is a universal and eternal truth. Power and strength lie in believing and the power is unleashed in prayer. The result is usually to the glory of God and the testimony of the believer.
Scriptures to use when Praying
How to use these verses
Have this article on where you can access and read as a reminder for prayers.
Read there Bible Verses about prayer and faith daily to revive your spiritual life.
You would have to memorize your favorite verses by writing them down.
Continue to wait on God in prayers and believing in God at all times.
Sharing this post and method with a friend as a way of sharing the word and encouragement.
What are some Scriptures on prayer?
Here are some carefully selected scriptures for prayers
James 5:16 (ERV) – Confess therefore your sins one to another, and pray one for another, that ye may be healed. The supplication of a righteous man availeth much in its working.
Mark 11:24 (CSB) – Therefore I tell you, everything you pray and ask for —believe that you have received it and it will be yours.
Philippians 4:6-7 (NASB) – Be anxious for nothing, but in everything by prayer and supplication with thanksgiving let your requests be made known to God. And the peace of God, which surpasses all comprehension, will guard your hearts and your minds in Christ Jesus.
1 Thessalonians 5:16-19 (NASB) – Rejoice always; pray without ceasing; in everything give thanks; for this is God's will for you in Christ Jesus. Do not quench the Spirit;
1 John 5:14-15 (NASB) – This is the confidence which we have before Him, that, if we ask anything according to His will, He hears us. And if we know that He hears us in whatever we ask, we know that we have the requests which we have asked from Him.
John 15:7 (Amplified Bible) – If you remain in Me and My words remain in you [that is, if we are vitally united and My message lives in your heart], ask whatever you wish and it will be done for you
1 Timothy 2:5 (ASV) – For there is one God, one mediator also between God and men, himself man, Christ Jesus,
Matthew 21:21-22 (NASB) – And Jesus answered and said to them, "Truly I say to you, if you have faith and do not doubt, you will not only do what was done to the fig tree, but even if you say to this mountain, 'Be taken up and cast into the sea,' it will happen. "And all things you ask in prayer, believing, you will receive."
Matthew 6:9-13 (NASB) – 9"Pray, then, in this way: 'Our Father who is in heaven, Hallowed be Your name. 'Your kingdom come. Your will be done, On earth as it is in heaven. 'Give us this day our daily bread. 'And forgive us our debts, as we also have forgiven our debtors. 'And do not lead us into temptation, but deliver us from evil. [For Yours is the kingdom and the power and the glory forever. Amen.']
James 1:5 (NKJV) – If any of you lacks wisdom, let him ask of God, who gives to all liberally and without reproach, and it will be given to him.
Luke 11:9 (ASV) – And I say unto you, Ask, and it shall be given you; seek, and ye shall find; knock, and it shall be opened unto you.
Matthew 6:7 (CEV) – When you pray, don't talk on and on as people do who don't know God. They think God likes to hear long prayers.
Luke 18:1-8 (NASB) –
Now He was telling them a parable to show that at all times they ought to pray and not to lose heart,
saying, "In a certain city there was a judge who did not fear God and did not respect man.
"There was a widow in that city, and she kept coming to him, saying, 'Give me legal protection from my opponent.'
"For a while he was unwilling; but afterward he said to himself, 'Even though I do not fear God nor respect man,
yet because this widow bothers me, I will give her legal protection, otherwise by continually coming she will wear me out.'"
And the Lord said, "Hear what the unrighteous judge said;
now, will not God bring about justice for His elect who cry to Him day and night, and will He delay long over them?
"I tell you that He will bring about justice for them quickly. However, when the Son of Man comes, will He find faith on the earth?"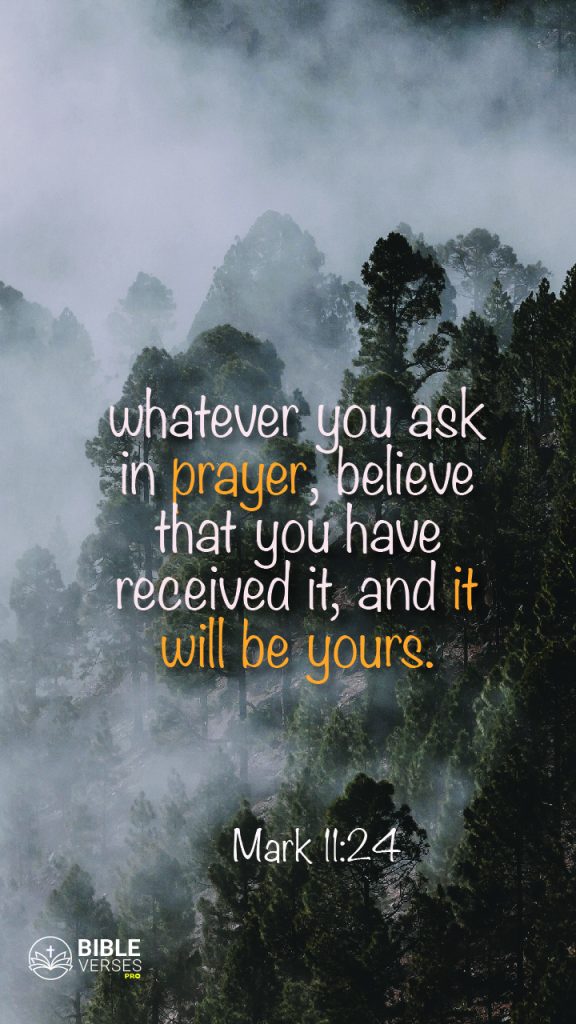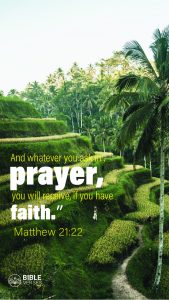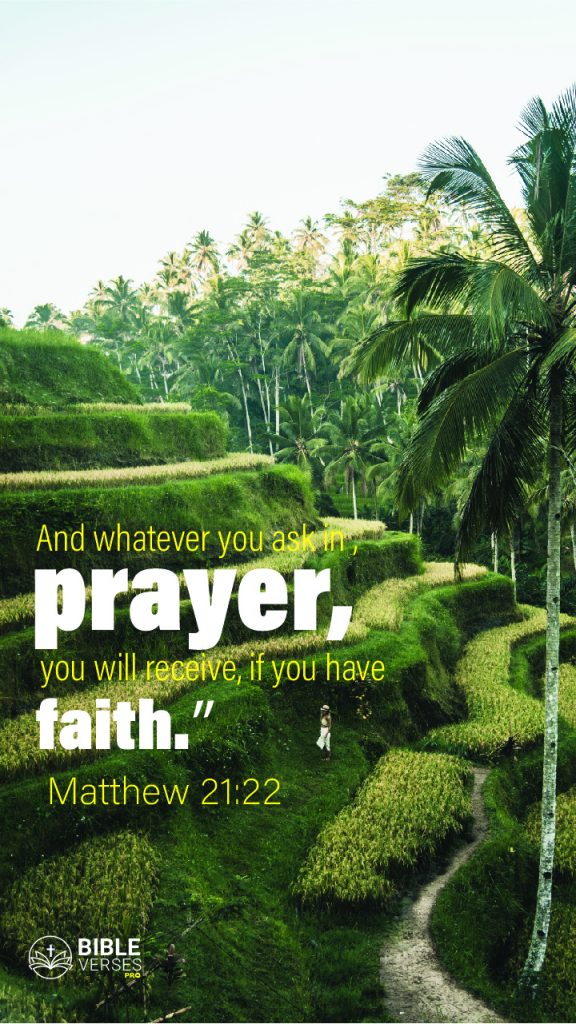 Prayer is the key Bible Verse
Jeremiah 33:3 (NLT) – Ask me and I will tell you remarkable secrets you do not know about things to come.
Psalm 91:1-4 (GoodNews Translation) –
Whoever goes to the LORD for safety, whoever remains under the protection of the Almighty,
can say to him, "You are my defender and protector. You are my God; in you I trust."
He will keep you safe from all hidden dangers and from all deadly diseases.
He will cover you with his wings; you will be safe in his care;
Romans 8:26 (ESV) – Likewise the Spirit helps us in our weakness. For we do not know what to pray for as we ought, but the Spirit himself intercedes for us with groanings too deep for words.
1 John 1:9 (BSB) – If we confess our sins, He is faithful and just to forgive us our sins and to cleanse us from all unrighteousness.
Psalm 103:1-5 (NASB)
1 Bless the LORD, O my soul,
And all that is within me, bless His holy name.
2 Bless the LORD, O my soul,
And forget none of His benefits;
3 Who pardons all your iniquities,
Who heals all your diseases;
4 Who redeems your life from the pit,
Who crowns you with lovingkindness and compassion;
5 Who satisfies your years with good things,
So that your youth is renewed like the eagle.
Luke 11:1 (Amplified Bible) – It happened that while Jesus was praying in a certain place, after He finished, one of His disciples said to Him, "Lord, teach us to pray just as John also taught his disciples
Psalm 141:2 (CEV) – Think of my prayer as sweet-smelling incense, and think of my lifted hands as an evening sacrifice.
Bible Verses to Strengthen your Prayer Life
James 5:13-14 (NASB) – Is anyone among you suffering? Then he must pray. Is anyone cheerful? He is to sing praises.
Is anyone among you sick? Then he must call for the elders of the church and they are to pray over him, anointing him with oil in the name of the Lord;
James 4:3 (ESV) – You ask and do not receive, because you ask wrongly, to spend it on your passions.
Revelation 8:4 (KJV) – And the smoke of the incense, which came with the prayers of the saints, ascended up before God out of the angel's hand.
2 Chronicles 7:14 (NLT) – Then if my people who are called by my name will humble themselves and pray and seek my face and turn from their wicked ways, I will hear from heaven and will forgive their sins and restore their land.
James 5:16-18 (NASB) –
Therefore, confess your sins to one another, and pray for one another so that you may be healed. The effective prayer of a righteous man can accomplish much.
Elijah was a man with a nature like ours, and he prayed earnestly that it would not rain, and it did not rain on the earth for three years and six months.
Then he prayed again, and the sky poured rain and the earth produced its fruit.
Hebrews 4:16 (Amplified Bible) – Therefore let us [with privilege] approach the throne of grace [that is, the throne of God's gracious favor] with confidence and without fear, so that we may receive mercy [for our failures] and find [His amazing] grace to help in time of need [an appropriate blessing, coming just at the right moment].
1 Peter 5:7 (HCSB) – casting all your care on Him, because He cares about you.
Psalm 51:1-4 (NASB)
1 Be gracious to me, O God, according to Your lovingkindness; According to the greatness of Your compassion blot out my transgressions.
2 Wash me thoroughly from my iniquity And cleanse me from my sin.
3 For I know my transgressions, And my sin is ever before me.
4 Against You, You only, I have sinned And done what is evil in Your sight, So that You are justified when You speak And blameless when You judge.
Psalm 50:15 (WEB) – Call on me in the day of trouble. I will deliver you, and you will honor me."
Matthew 18:19-20 (NASB) –
19 "Again I say to you, that if two of you agree on earth about anything that they may ask, it shall be done for them by My Father who is in heaven.
20 "For where two or three have gathered together in My name, I am there in their midst."
Matthew 26:41 (KJV) – Watch and pray, that ye enter not into temptation: the spirit indeed is willing, but the flesh is weak.
5 Types of Prayer in The Bible
Here are five basic types of prayer
Download Free Phone Wallpaper on Bible Verses about Prayer and Faith
A Video on The Most Powerful Prayers in the Bible